Sinopec's business back to profit
Updated: 2013-08-27 06:50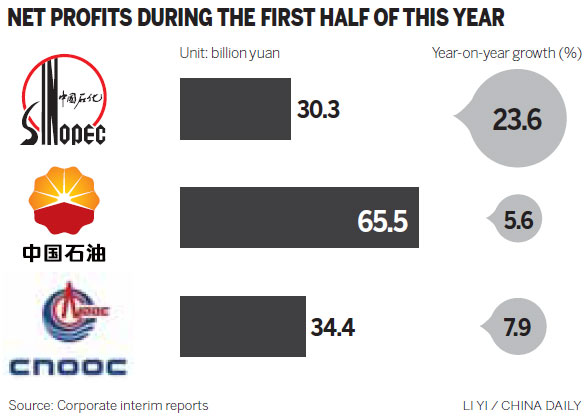 Company posted 213m yuan in operating income from refineries
China Petroleum & Chemical Corp's refinery business swung back to profit in the first half, benefiting from a government reform that allows domestic fuel prices to be linked more closely with international prices.
Sinopec squeezed out 213 million yuan ($34.8 million) operating income from its refining business in the January-June period, bouncing back from an 18.5 billion yuan loss in the same period last year.
Overall, profit rose by 24 percent year-on-year to 30.3 billion yuan, up from 24.5 billion yuan a year earlier. Still, that is slightly lower than the 31 billion yuan average estimate of seven analysts compiled by Bloomberg.
Sinopec's report wraps up that of China's big-three oil companies, which as a whole posted growth but are still seeking some effects from China's economic slowdown.
Sinopec's refining profit was even bigger in the first quarter, at around 22 billion yuan. But an $8 dive in the global oil price in the second quarter erased much of the profit.
Chairman Fu Chengyu said that earnings from the refining business will be even better in the second half, as the company has already finished de-stocking high-price inventory in the second quarter and more benefits will come from the price reform.
"We have full confidence that the second half will be better than the first," Fu said in a news briefing in Hong Kong on Monday.
Sinopec shares were up 1.92 percent, or HK$0.11, on Monday, in Hong Kong trading, to HK$5.83 (75 US cents) a share. Sinopec proposed an interim dividend of 0.09 yuan a share, down 10 percent from the year-ago period.
In March, Beijing introduced a new pricing mechanism in the domestic fuel market, shortening the window for retail fuel-price adjustments to 10 days from 22 days. It also adjusted the varieties of crude against which domestic oil products are priced.
Earlier this year, Sinopec spun off its unit Sinopec Engineering (Group) Co Ltd via a separate IPO in Hong Kong, as part of its structural reform.
Fu said there will be more spinoffs in the future, but no planned timetable for such actions.
Sinopec has recalibrated its capital expenditure strategy, to be in tandem with the nation's ongoing economic transformation from quantity to quality. In coming years, capital expenditure on simple scale expansion will be trimmed down, according to Fu.
Sinopec is the last of China's big-three oil companies to report first-half earnings. Profits at PetroChina rose 5.6 percent in the first half, while CNOOC saw a 7.9 percent increase in earnings during the same period.
Both Sinopec and PetroChina reported weaker demand for diesel, closely associated with industrial production. China's growth slowed to 7.5 percent in the second quarter, down from 7.7 percent in the first quarter this year and 7.9 percent in the fourth quarter of 2012.
PetroChina's refining business also improved, scaling back losses. The business lost 7.8 billion yuan in the first half, 15.5 billion less than the same period last year.
CNOOC has no refining business.