Chinese students head overseas at younger ages
Updated: 2013-08-02 00:33
Marvin Mao, chief executive officer of the online overseas education network ShareWithU, said he found more Chinese youngsters starting their foreign education at the junior high school level. Mao said this earlier start allowed students to adjust better to their new environments.
He said the number of Chinese high school students heading overseas has been surging since 2010, and there has been big growth in the number of applicants for junior high schools and primary schools this year.
Mao said the trend of studying abroad at a younger age is expanding to second- and third-tier cities.
Foreign high schools that have struggled with funding since the 2008 global crisis have been eager to attract more international students, Mao said. For example, about 300 high schools in the US are recruiting students from China, he said.
But having the high school or college experience in the US, a popular destination for many in China, doesn't come cheap: It can cost 200,000 yuan ($32,630) to 600,000 yuan a year, including tuition and living expenses. That's the annual income of many Chinese families.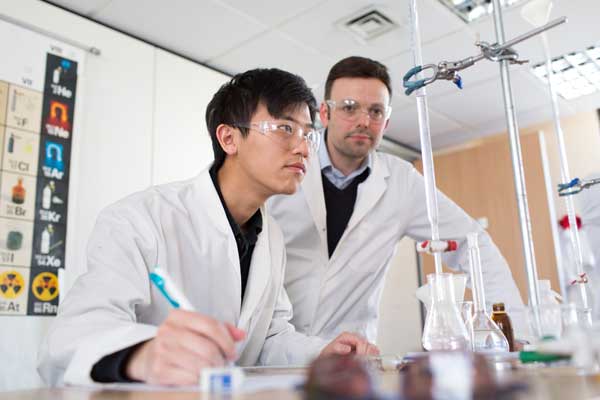 Chinese families now know more about overseas education, and they have more money to pay for it, leading to a decline in the average age of overseas students.[provided to china daily]
Foreign education groups, for their part, hope to cash in on the lucrative Chinese market, industry experts said.
Annette Madjarian, spokeswoman for Navitas Group, a leading global education provider based in Australia, said though the company hasn't detected a clear difference in the average age of students enrolling in academic English courses prior to their undergraduate or postgraduate courses, the number of students enrolling in academic English followed by foundation courses has grown and this group is slightly younger.
In the past year or two, Navitas has seen more students choosing to start their studies with the lower-level academic English courses.
Annual increases have been about 10 percent in these courses in the past two years and stable in the highest-level academic English courses, she said.
At Bell Educational Services Ltd, a London-based education company, one of the courses that's attracting the largest number of Chinese students is the summer young learner course, which is designed for children between seven and 17 years old, according to Greg Watson, chief executive of Bell.
Over the past three years, about 1,000 Chinese students have studied at Bell for an average of about three weeks, at a typical cost of 2,000 pounds ($3,030) to 3,000 pounds.
The average age of Chinese students taking Bell's young learner course has fallen from 17 in 2012 to 14 in 2013, according to the company.
The proportion of Chinese students aged 10 or under was 10.5 percent in 2013, while it was only 1.9 percent in 2011. Similarly, the proportion of students aged between 11 and 14 years soared from 5.2 percent in 2011 to 24 percent in 2013.