Chinese students head overseas at younger ages
Updated: 2013-08-02 00:33
Parents protect children from exam pressures by sending them abroad
Next month, Chen Deming, 13, will enter a junior high school in the United States.
His parents are going along. His mother, Kang Qingjun, 43, is gearing up to learn to drive, and she's practicing her conversational English.
"Chinese parents will scrimp on many things, but not education," said Kang. "We've saved enough money for him to finish his studies."
To protect their children from the pressure of the fierce competition faced by millions of college-bound exam takers in the country, an increasing number of Chinese parents are sending their sons and daughters abroad, making the country the leading exporter of students.
Chinese families now know more about overseas education, and they have more money to pay for it. One result is that the average age of students headed overseas is declining significantly, creating a huge market for domestic training agencies and foreign educational institutions.
According to the Center for China and Globalization, a non-profit think tank, in 2010, nearly 20 percent of all Chinese overseas students held an academic certificate below the high school level. But in 2011, the figure had risen to 22.6 percent.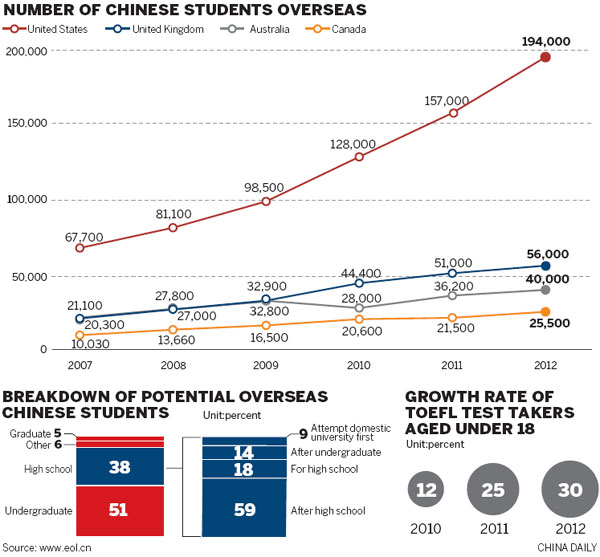 Those taking the TOEFL exam (an English language test) and the SAT (a college admissions exam widely used in the United States) are becoming younger, with many now aged under 18.
Fan Meng, director of the North America exams department of New Oriental Education and Technology Group, a leading test preparation company in China, has observed the rising number of younger students in the company's prep classes for high school and college admissions exams.
Students aged under 18 taking the TOEFL test increased 30 percent last year from 2011, he said.
Fan said the explosive growth is most visible among students who are headed to primary schools or senior high schools.
Further, he said, the students and their parents are becoming very well-informed about education overseas.
When selecting schools, these families emphasize the importance of improving students' creativity and innovation, while maintaining their individuality, Fan said.