China 4G: opportunities for ICT Industries
Updated: 2013-07-30 13:53
First, the construction of the 4G follow-up supporting systems and the investment scale of the mobile Internet industry are huge. Though the latest and the largest to date Chinese mobile 4G network construction bidding mainly focuses on those traditional telecom equipment suppliers, the construction of 4G network follow-up supporting systems (transmission network, operation management and data center) will present enormous market opportunities. Meanwhile, with about twenty times download speed and loading capacity of 3G network, the 4G network will bring broad market development space for the mobile Internet industry. IDC expects the IT investment under the influence of the commercialization of 4G network to reach $33.6 billion in 2014 and $46 billion in 2017.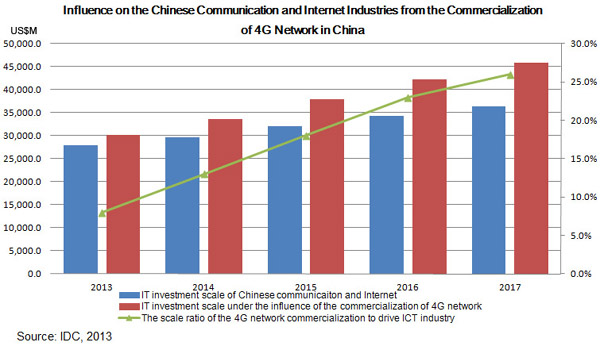 Second, the Chinese Internet of things industry with 4G network as its "Smart Pipe" will gain scale development. On Feb 14, 2012, the 12th Five-year Plan for the Chinese Internet of things was officially issued. According to the Plan, smart industry, agriculture, logistics, transportation, power grids, environment protection, security and safety, medical care and home will get priority for development and key trial projects will be built to drive scale development.
Mobile communication network is the central nerve of the entire Internet of things industry and guarantees the transmission of Big Data in the industry. The commercialization of 4G network will be undoubtedly a powerful push to the entire Chinese Internet of things industry as the development of sensing chip of the Internet of things. According to IDC research, the total scale of the Chinese Internet of Things industry will reach $752 million in 2014 and $ 2,049 million in 2017.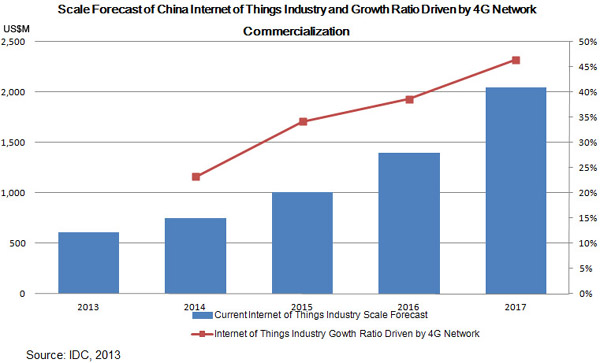 Therefore, the commercialization of 4G network not only involves the self-development of the Chinese communication industry but also the scale development of the Chinese ICT industry at large.