Lifeline thrown to Shanghai's bookstores
Updated: 2012-02-29 10:29
By Zhang Kun (China Daily)
| | | | | | | | | | | |
| --- | --- | --- | --- | --- | --- | --- | --- | --- | --- | --- |
|   | | Comments() | | Print | | Mail | | Large Medium  Small | 分享按钮 | 0 |
5 million yuan will aid retailers in harsh competition with online firms
SHANGHAI - The city is offering 5 million yuan ($793,800) to support book retailers who find themselves in harsh competition against their online counterparts, the municipal government announced on Tuesday.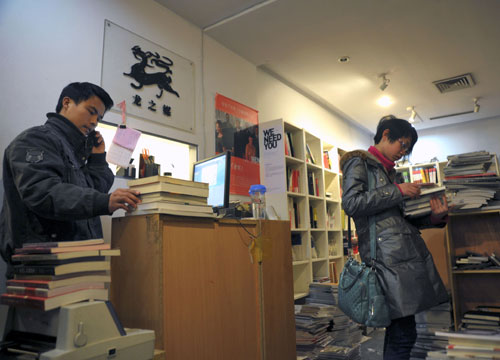 Customers browse the shelves of Longzhimei Advertisement Bookstore in Shanghai on Monday, before it closes for business. [Photo/China Daily]
Besides the major branches of State-owned Xinhua Bookstores, the money will go largely to private bookshops that play a significant role in enriching people's cultural lives, according to Kan Ninghui, deputy director of the city's press and publication bureau.
This is the first time a local government in China has introduced policies to support offline bookstores.
The subsidy is part of an annual allocation of 15 million yuan in support of the city's publication and book marketing infrastructure. The city plans to keep investing at the same scale for at least five years.
The offline book retailers' industry has been under increasing pressure due to factors including rising rent costs, online competition and changed reading habits.
Earlier this month, the largest bookstore on Huaihai Road, a branch shop of Shanghai Book Mall, closed because of its poor performance, according to Xinmin Evening News.
"We can't wait any longer to support and help bookstores through hardship," Kan said at a municipal news conference on Tuesday. A lively network of bookshops and newsstands is important to the cultural ecology of a city, he said. "It's of key importance to cultivate and maintain such an ecology."
Bookshops, State-owned bookstore chains and private establishments are encouraged to log on to the bureau website, submit materials and make applications. A jury made up of academics, readers and industry insiders will choose who will receive the financial support, either in the form of subsidy, prize money or subsidized loans, among other means of financial aid.
The process will be public, fair and just, Kan said. Bookstores will be evaluated for their service, environment and contribution to local cultural activity. Bookshops in university towns, the Central Business District and residential communities will all be considered, as well as small shops in the countryside.
There are 6,000-7,000 registered retailers of books, newspapers and other publications whose annual sales volume totals 11 billion yuan, Kan said.
"We'll pick the best of them to offer our support." He suggested that "landmark" shops, well recognized for their environment, quality of service and distinctive taste for products, will be likely to win financial support from the government.
Kan explained that the central government is doing research on national policies to lower taxation and rent costs for bookstores, and local governments are being encouraged to develop new ways to help.
Private bookstores responded enthusiastically to the new policy. Shi Jianfeng, who opened a small bookshop-library named 2666 in a community of Jing'an district, said that the subsidy will help the shop deal with the pressure of rent costs.
Yan Bofei, president of Jifeng Bookstore chain, with three shops, said the policy was a positive step on a long journey. He suggested that more policies and regulations might come up for discussion in the future.
"For example, when a shopping mall opens, it might be possible to put aside some shop space for industries that have small profit margins but that meet important cultural demands," Yan said. "There might be a way to limit the rent price for bookshops in a shopping mall."
The publishing industry gave positive feedback too. Huang Yuning, head of the literature department at Shanghai Translation Publishing House, said shops that display actual books encourage people to read and have irreplaceable advantages over online shops.