Outspoken, straightforward
Updated: 2012-02-23 13:38
By Chen Limin (China Daily)
| | | | | | | | | | | |
| --- | --- | --- | --- | --- | --- | --- | --- | --- | --- | --- |
|   | | Comments() | | Print | | Mail | | Large Medium  Small | 分享按钮 | 0 |
The man they call 'Big mouth' bluntly reveals his philosophy about business
BEIJING - Leaning back on the sofa and dressed in a plain red T-shirt and blue jeans, Li Guoqing looks younger than he is.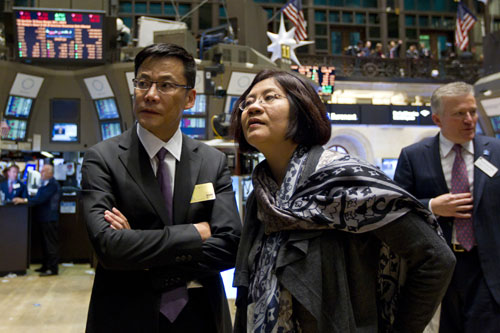 Li Guoqing (left), co-founder and chief executive officer of E-Commerce China Dangdang Inc, and Peggy Yu, co-founder and chairman of Dangdang, tour the floor of the New York Stock Exchange on Dec 8, 2010. Dangdang's stock almost doubled in value in its debut on that day. [Photo/China Daily]
He adopts a comfortable posture, legs crossed, smiling, signaling that he is ready to talk. We are in the new office of the co-founder and chief executive officer of E-Commerce China Dangdang Inc, an Amazon Inc-like website that made its debut on the New York Stock Exchange in 2010.
Compared with most public company CEOs, who are usually reserved and mannered, Li is outspoken, straightforward and sometimes bad-tempered.
"It's a scarce resource in society, and I should play this role," he said, referring to some public comment he made on commercial affairs, which is usually incisive and sometimes not conventionally appropriate.
He was nicknamed "Big mouth Li" by some Chinese media or, rather, he earned the name after an outrageous war of words in which he accused Morgan Stanley of undervaluing his company's initial public offering and after other verbal battles with Dangdang's rivals last year.
The 47-year-old, however, seems quite used to it, and in his daily management of Dangdang, there is a coherent directness.
"He has his own opinions and sometimes will get angry during discussion with others," said a Dangdang employee who didn't want to give his name. "But, after that, he will send an e-mail to say sorry as a way of making up," added the employee, to whom Li's natural directness seems tough but not without a sense of meaning well.
"He asked me how I got on with my girlfriend and advised me to do more exercise to keep fit," he said. Although middle-aged, Li has kept in good shape by watching what he eats.
While giving the impression of vacillating emotionally, Li himself thinks he is rational about every detail of running a company, ranging from the cost of each department to the number of new customers a marketing campaign has brought.
Over the past year, he has used mathematics, something he says he is good at, and a fighting spirit to start a number of price wars with Dangdang's rivals, including major online retailer Jingdong Mall.
The result was a decrease of 11 percentage points - from 25 percent to 14 percent - of the company's gross margin in the third quarter of 2011 compared with the previous year. As a result, its net loss was 73.4 million yuan ($11.5 million), while a year ago, there was a net income of 32.7 million yuan.
Li, however, said "it's worth it" as the loss was for "services and price wars". While the e-commerce business is described as a "money burner", as companies spend a lot more than they earn, Li said he feels comfortable as Dangdang's loss is reasonable.
Firmly holding the "low price" card in hand, Li attempted to be a tightrope walker that could find a balance between attracting users and making money.
"We have many way to lower costs to ensure the price is cheap," he said. The company has been constantly building warehouses to shorten the distance for delivering orders nationwide. The company now has 10 warehouses across the country. Li cited this as an example that saves the company "a lot of money".
No one can say Li lacks confidence. "We surely will join price wars," he said, resolutely. "Competition is competition, be it vicious or healthy."
Lowering costs and offering cheap prices is not the only solution. What he tries to do is to go beyond being an online bookseller to being a virtual department store like an online Wal-Mart, just as Amazon has done.
Dangdang accounts for one third of online book sales in China, but with rivals appearing one after another selling books and exploring the new land of e-commerce, Li believes he has to change before competition changes him.
"Our aim in 2012 is to make inroads into the clothing sector," he said.
The company plans to tackle a new category each year. After moving into maternal and children's products, skin care cosmetics and household goods, clothing is next. The move will put it in direct competition with Vancl.com, the country's major online clothing retailer.
Dangdang will have its own brand of clothing, which will bring a gross margin much higher than other categories. Clothing usually registers a margin of about 30 percent, while household electrical appliances, although priced high, in effect contribute little to profits, he said.