Bio-diesel firms welcome 'gutter oil' crackdown
Updated: 2011-12-28 10:28
By Zheng Caixiong (China Daily)
| | | | | | | | | | | |
| --- | --- | --- | --- | --- | --- | --- | --- | --- | --- | --- |
|   | | Comments() | | Print | | Mail | | Large Medium  Small | 分享按钮 | 0 |
GUANGZHOU - The crackdown on gutter oil for edible use by the Ministry of Public Security in the past three months has proved a boon to bio-diesel companies in Guangdong province.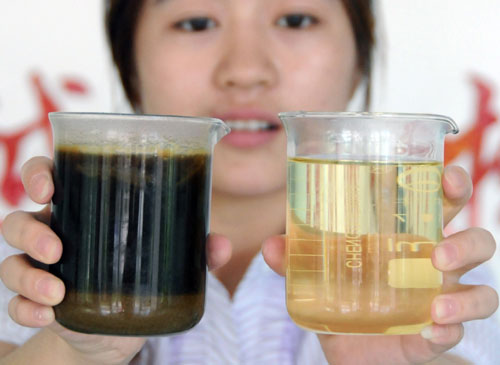 A worker at a bio-energy company displays a jar of gutter oil (left) and a jar of bio-diesel made from the oil. The company is able to produce 980 kg of bio-diesel from 1 ton of gutter oil.[Photo/ Xinhua]
Zhou Kequan, deputy general manager of Foshan Zhenghe Bio-Energy Co Ltd, said many companies, which stopped producing bio-diesel from waste oil when the demand for recycled gutter oil from restaurants made it too expensive, now plan to restore production because the price of gutter oil has dropped in the wake of the crackdown in the past few months.
"Due to the crackdown on recycling gutter oil as cooking oil, most of the gutter oil is being used by bio-energy companies," Zhou told China Daily on Monday.
"The price for a ton of gutter oil is now less than 5,000 yuan ($793), compared with 6,000 yuan three months ago," Zhou said.
Gutter oil is made from the old oil discarded by restaurants and other eateries and it is so called because it is sometimes salvaged from sewers.
Following a special campaign launched across the country in September, police have smashed 60 gangs and criminal networks producing and selling gutter oil as edible oil and seized more than 60,000 tons of gutter oil.
There has been a dramatic reduction in the use of gutter oil for edible use after the crackdown in the past two months, police sources said.
Zhou predicts good prospects for bio-diesel companies if the gutter oil is no longer used for cooking. "Now a ton of bio-diesel made from gutter oil sells for only 7,000 yuan, while the price of a ton of diesel refined from crude oil has increased to about 8,500 yuan," he said.
Established in 1999, Zhou's company, which has a production capacity of more than 50,000 tons a year, is the largest of its kind in Guangdong province and one of the top five in the country, which has more than 300 bio-diesel companies.
Dong Huaqiang, a professor from Foshan Academy of Sciences, urged local governments to introduce a new system to collect swill and gutter oil for bio-diesel use.
"Only licensed and qualified companies should be permitted to collect swill and gutter oil from local restaurants, hotels and canteens and it should only be sold to bio-energy companies," he told Nanfang Daily.
"Those who have violated the regulation should be seriously punished and receive heavy fines," he said.
Chen Wenshan, a white-collar worker in Guangzhou, said government departments should give more preferential policies to support the production of bio-diesel while further standardizing the operation of major restaurants.
"The government should let bio-energy companies and gutter oil producers reach a win-win deal to prevent the gutter oil from returning to the dinner table," he told China Daily.