New chapter for Dangdang in e-books
Updated: 2011-12-22 09:36
By Chen Limin (China Daily)
| | | | | | | | | | | |
| --- | --- | --- | --- | --- | --- | --- | --- | --- | --- | --- |
|   | | Comments() | | Print | | Mail | | Large Medium  Small | 分享按钮 | 0 |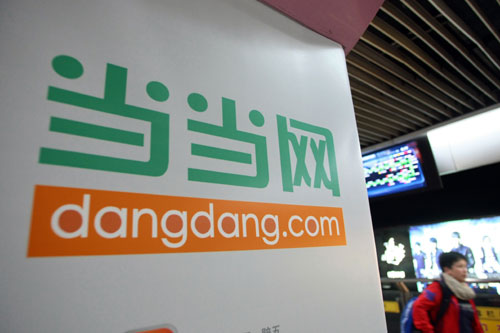 A passenger walks past an advertisement for the online shopping site dangdang.com at a subway station in Shanghai. E-commerce China Dangdang Inc, a US-listed online retailer in China, started selling e-books on Wednesday, offering 50,000 titles from 200 publishers. [Photo/China Daily] 
BEIJING - Large e-commerce players are jumping into China's e-book market, which analysts said could unlock the potential of this challenging sector.
E-commerce China Dangdang Inc, a US-listed online retailer in China, started selling e-books on Wednesday, offering 50,000 titles from 200 publishers.
Yi Wenfei, the company's vice-president, said the number of e-book titles would soon exceed 100,000, since Dangdang is in talks with 100 more publishers.
"We hope the number of e-books sold on Dangdang can surpass that of printed books in the next three to five years," said Yi.
Dangdang is following in the footsteps of Amazon.com Inc, the biggest online retailer in the United States, by transforming itself from a mere online bookseller to an online retailer offering items ranging from electronics to food. It's also launching its own e-book platform.
Yi said the company will provide its e-reader, priced at about 499 yuan ($78.70), in the first quarter of 2012. The cheapest Amazon Kindle costs $79.
Dangdang is not alone in its move into e-books.
Jingdong Mall, a major business-to-consumer website, said it is preparing for an e-book sales platform. It will offer 80,000 e-book titles at the beginning of next year, Shi Tao, vice-president of Jingdong Mall, told The Beijing News newspaper.
China's e-book market has attracted many kinds of competitors ranging from publishers to hardware makers and online sellers. But none has been as successful as Amazon in the US.
Hanwang Technology Co Ltd, which sells the most e-readers in China, has had a hit with its devices, but it has failed to meet users' chief need - content - said Zhang Yanan, a media industry analyst with Zero2IPO Group.
Shanda Literature, a division of Shanda Interactive Entertainment Ltd, controls most of the country's online literature market. It has a considerable scale with its online sales platform, the Cloudary, though its content and resources fall mainly in the category of online literature, she said.
She added that Dangdang, which has cooperated with publishers for a long time and has a stable user base, might perform well in the business. But it will have to spend time "educating" consumers, as Chinese Internet users aren't used to paying for online materials.
Hu Yanping, general manager of the Beijing-based research company Data Center of China Internet, agreed. He said that only if each part of the industry chain earned profits could the market move forward.
Stella Chou, Greater China managing director of Harper Collins, said that many consumers are not prepared to pay for material online, and the publisher is taking a wait-and-see attitude.
Dangdang accounted for 25.9 percent of online book sales in China during the past quarter, followed by Amazon China's 14.7 percent, according to the domestic research company Analysys International.
About 200 million people in China read books online, often using mobile phones, according to the General Administration of Press and Publication, the government body that oversees the publishing industry.
Jin Jun, public relations director of Amazon China, said the company hoped to provide digital publishing products, including Kindles and e-books, but it doesn't have a timeline for that.
Yang Mengqian, a 24-year-old English teacher, said she would be comfortable paying for e-books if they cost half as much as printed ones. She recently bought a Kindle and a $14 e-book from Amazon.
"Most of my friends who read books online read the pirated free ones," she said. "But if a book is really useful for me, I am willing to pay."
Andrew Moody contributed to this story.