Old woman seeks Carrefour apology
Updated: 2011-10-24 13:21
By Guo Rui (China Daily)
| | | | | | | | | | | |
| --- | --- | --- | --- | --- | --- | --- | --- | --- | --- | --- |
|   | | Comments() | | Print | | Mail | | Large Medium  Small | 分享按钮 | 0 |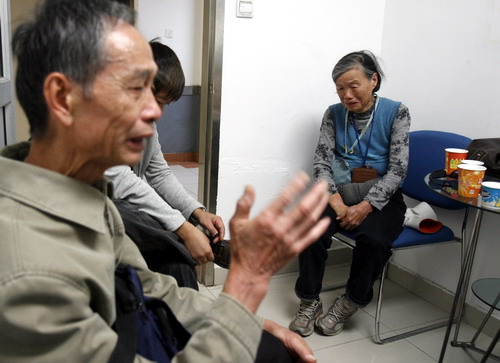 Wang Yulan and her husband, Yan Fucun, in an office at Carrefour's Guanggu store in Wuhan, Hubei province, on Oct 20. [Photo/China Daily]
WUHAN - An elderly customer who says she was falsely accused of stealing by staff members at Carrefour has threatened to sue if she does not receive a written apology.
Wang Yulan, 72, went to the store's Guanggu branch in Wuhan, Central China's Hubei province, to buy cereal on Oct 18. She picked up 20 packs of one brand and was given another four as promotional gifts from a supermarket saleswoman.
The saleswoman told Wang to explain to the cashier that she was entitled to the packs as gifts.
However, when she arrived at the checkout, the cashier insisted Wang pay for all 24 packs, which led to an argument. The saleswoman later denied she said the extra packs were free.
Huang Wei, a store supervisor, led Wang to an office and allegedly accused her of theft. Huang also had her sign a form and pose for photos.
"I've had surgery on my eyes and I couldn't see clearly what the paper was when I signed my name," said Wang, who was later released by the supermarket.
Wang and her husband, 76-year-old Yan Fucun, returned to the store the next day to demand an explanation.
A manager refused to admit that Wang was suspected of theft. He said the form she signed was destroyed.
However, the couple said they saw a document in an office containing a list of thieves caught by the supermarket, and Wang's name was included.
On Saturday, the couple visited general manager Luo Ming and got the form she signed back.
Wang said the form had a forged fingerprint beside her signature.
According to Wuhan's Changjiang Times, the supermarket launched a bonus scheme this month that offered employees money and paid vacation time if they capture a thief in the store.
Wang told China Daily on Sunday that she might resort to legal action if Carrefour refused to admit she was innocent. Her husband said she has suffered a lot and had to rest in bed at all times.
Yan said the supermarket sent the couple three formal apology letters that admitted their mistake but it was still refusing to declare Wang's innocence.
"We are angry and waiting for Carrefour," he said.
General manager Luo declined to comment.
Yi Shenghua, a lawyer at Yingke Law Firm in Beijing, said Carrefour might have broken the law.
"If the forging action caused serious consequences, it may be considered a crime," Yi said.
Carrefour China apologized for the incident on its Sina micro blog on Friday, saying managers and staff members involved have visited Wang's home and apologized.
"Personnel responsible for the incident have been dismissed or warned," it said. "We are very sorry for the incident and for the harm caused to Wang by the incident, while asking for Wang's understanding."
However, the online apology did not mention whether Wang was innocent or not.
Although Wang confirmed that Carrefour personnel did visit and apologize, she insisted that the retail giant should give her a written apology with a common seal on it, Beijing's Mirror Evening News reported on Sunday.
"Not everyone has access to their micro blog and gossip is a fearful thing," Wang said. "Only a written apology could be used as evidence."
Carrefour China said it would give Wang a formal written apology soon.