Credit tightening hits Sinopec debt
Updated: 2011-09-14 09:54
By Baizhen Chua and Guo Aibing (China Daily)
| | | | | | | | | | | |
| --- | --- | --- | --- | --- | --- | --- | --- | --- | --- | --- |
|   | | Comments() | | Print | | Mail | | Large Medium  Small | 分享按钮 | 0 |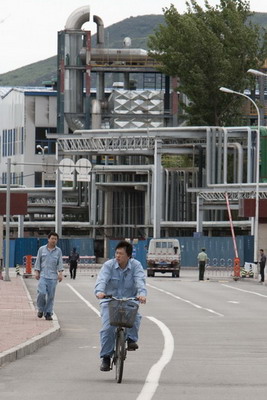 A China Petroleum & Chemical Corp (Sinopec) refinery in Beijing. Sinopec may have to pay twice as much to refinance its debts as a result of increased borrowing costs. [Photo / Bloomberg]
Yields of bonds issued by China's biggest oil refiner rise to record high
BEIJING / HONG KONG - China Petroleum & Chemical Corp (Sinopec), the non-financial Chinese company with the most bonds maturing next year, may have to pay twice as much to refinance debt because of China's fight against inflation.
Asia's largest refiner said last month it would seek shareholder approval next month to issue 50 billion yuan ($7.8 billion) of corporate debt and convertible bonds.
The yield on Sinopec's 20 billion yuan of three-year notes rose to a record 5.79 percent on Seppt 8, up from 2.48 percent when they were sold in June 2009. US corporate bonds yield an average 3.62 percent while European company debt pays 3.9 percent, according to Bank of America Merrill Lynch.
Premier Wen Jiabao has called quelling the fastest inflation in three years China's top task this year. Credit restrictions aimed at curbing price growth and curtailing the risk of defaults have sent the cost of corporate borrowing to a record high.
The average yield on top-rated five-year corporate bonds has risen by 100 basis points to 5.87 percent in 2011, according to Chinabond, the nation's biggest clearing house.
"The increased costs are big," said Brynjar Eirik Bustnes, a Hong Kong-based analyst at JPMorgan Chase & Co, who rates Sinopec's shares "overweight".
"This will definitely eat into their profits," he said.
Inflation in China was 6.2 percent last month. To reduce prices, the People's Bank of China, the central bank, has raised borrowing costs five times since mid-October 2010, with the latest increase in July lifting the benchmark one-year rate to 6.56 percent.
A rise of 3 percentage points in borrowing costs translates into about an extra 30 million yuan a year for every 1 billion yuan raised, according to Bloomberg calculations.
Sinopec, which supplies about 60 percent of China's gasoline and is the nation's biggest listed company by sales, has 38.5 billion yuan of debt due next year.
In addition to the 20 billion yuan of three-year notes maturing in June 2012, the Beijing-based refiner also has a 10 billion yuan three-year bond due in March next year that was sold at 2.25 percent. The yield on that security rose to 5.595 percent on Sept 12.
The yield on Sinopec's 8.5 billion yuan five-year bond sold in November 2007 at 5.4 percent rose 8 basis points last week to 5.774 percent.
Sinopec has a debt rating of A+ from Standard & Poor's, the fifth-highest investment-grade level and one step below the Chinese government.
The refiner said on Aug 26 that it would seek shareholder approval to sell 20 billion yuan of bonds with maturities of three to 10 years, with Sinopec's board to set the final terms based on market conditions. Proceeds will be used to repay maturing debt and to supplement working capital, the company said.
The notes will cost less than borrowing from banks, with the coupon rate not to exceed 90 percent of the rate for yuan loans of the same maturity set by the central bank, Sinopec said in its Aug 28 statement. That's also the lowest rate at which commercial banks in China are allowed to lend.
"Sinopec is a huge company and strategically important to China," said Lawrence Lau, an analyst with Bank of China Ltd in Hong Kong. "Its credit rating has always been among the highest among Chinese enterprises. It can get money on the bond market at a lower cost than taking bank loans."
The refiner posted 1.22 trillion yuan of revenue for the first half.
In addition to boosting financing costs, China's campaign against inflation is also spurring concerns that regulators won't allow gasoline prices to rise in a bid to curb the cost of transporting vegetables, grain and consumer goods. That policy, combined with gains in the cost of crude oil imports, might result in increased refining losses for Sinopec.
The company turned about 800 million barrels of oil into gasoline in the first half, resulting in 12.2 billion yuan of losses.
The difference in yields between Sinopec's 2.48 percent bonds due in 2012 and China's sovereign debt widened to 2.02 percentage points on Sept 8, the most since the refiner's notes were sold in June 2009, according to Chinabond data.