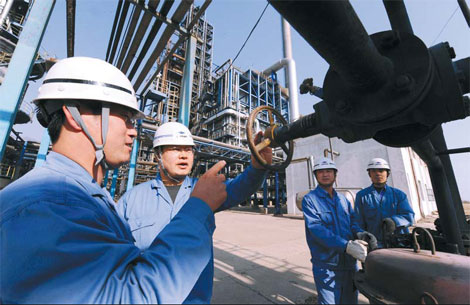 A China Petroleum & Chemical Corp (Sinopec) refinery in Beijing. Sinopec operates 13 of the country's 20 mega-refineries with more than 10 million tons of refining capacity. [Photo/China Daily]
BEIJING - China Petroleum & Chemical Corp, the country's biggest refiner by capacity, is planning to build a refining complex with an annual processing capacity of 32 million tons in China's eastern Jiangsu province.
The project, based in the Xuwei New Area of the coastal city of Lianyungang, is estimated to have initial investment of more than 100 billion yuan ($15.46 billion), according to reports in the National Business Daily which cited an unnamed local official.
A media contact from China Petroleum, also known as Sinopec, refused to comment on the report, saying that he had no idea about the project. However, when contacted by China Daily, Shi Haibo, the director of the Xuwei New Area Administration Commission, confirmed that the project is proceeding in the city, but declined to elaborate further.
Related readings:


 Oil companies to open more stations


 Sinopec looks to Shengli field for overseas sales


 Sinopec's unit to dive deeper for offshore assets


 Sinopec, SABIC invest in polycarbonate plant

The mega-complex is composed of two phases, with the first including annual refining capacity of 12 million tons and annual production capacity for 1 million tons of p-xylene, a Benzine-based hydrocarbon.
The project is expected to gain approval from the National Development and Reform Commission, the country's top economic planner, with construction slated to begin in 2013 and the plant becoming operational in 2016, according to the report.
So far, Sinopec and the local government have yet to reach agreement on the stakes each will hold in the project, the local official was cited as saying. Wang Tianpu, Sinopec's president, said that the company intends to invite major foreign petrochemical firms to join the project, the newspaper said.
The move by Sinopec, which operates 13 of the country's 20 mega-refineries with more than 10 million tons of refining capacity, will expand China's refining capacity to a new high to meet the nation's increasing demand for oil, analysts said.
According to China National Petroleum Corp, the country's biggest oil and gas producer, China's apparent fuel oil demand - which includes domestic production and imports, but excludes exports - is expected to rise to 257 million tons this year, an increase of 6.6 percent from 2010.
China's apparent consumption of fuel oil containing gasoline and diesel rose by 8.2 percent in the first five months of this year from the same period in 2010.
"We expect the fuel oil demand to surge about 55 percent by the end of 2020 from last year's level. Sinopec's new refineries, therefore, are designed to make up the foreseeable demand gap within 10 years, even though supply outstrips demand currently," said He Wei, a senior analyst at BOCOM International Holding Co, a Hong Kong-headquartered brokerage.
He added that the majority of crude oil for Sinopec's planned refining complex will come from overseas. "That's why it selected a coastal city as the location for the refineries. "
At present, Sinopec is heavily dependent on imports of crude oil.