Tasty profit wrapped in moon cakes
Updated: 2011-09-13 11:38
By Li Xinzhu (China Daily)
| | | | | | | | | | | |
| --- | --- | --- | --- | --- | --- | --- | --- | --- | --- | --- |
|   | | Comments() | | Print | | Mail | | Large Medium  Small | 分享按钮 | 0 |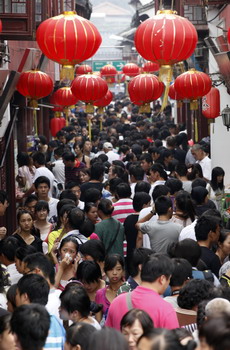 People walk in a traditional alley during the Mid-Autumn Festival holiday on Monday in Shanghai. [Photo / AP Photo]
SHANGHAI - Put it down as an effect of inflation.
There really is no other reason to explain why the highly seasonal business of buying and selling moon cake gift coupons saw such a boom this year.
An active trader in the business in Shanghai could make more than 60,000 yuan ($9,400) in the two months before the Mid-Autumn Festival that fell on Sept 12 this year. Many businesses began sending out moon cake coupons as gifts to their corporate clients and associates as early as July.
The large circulation of these coupons, valued at an average of 200 yuan to 300 yuan apiece, has spawned a temporary market where many brokers, some operating on street corners, buy the coupons from the recipients at a discount large enough to make a profit by reselling them to the issuers below face value.
At the busy corner of Huaihai Road and Yunnan Road, a famous food street in Shanghai, a middle-aged man squatted beside a sign board saying "high" prices are offered for coupons. "Business is great this year," he said with a broad smile showing rows of tobacco-stained front teeth.
He said he had amassed more capital this year for the buying because "I knew there would be a lot more people wanting to exchange the gift coupons they received for money," he explained.
But when it came to the specifics of his business, he was a lot less forthcoming.
"This is a fiercely competitive market and the entrance threshold is low," he said. "I can't tell you my business channels, they are my secrets."
But actually there is no secret about this market that comes to life each year for two months leading up to the moon festival. And most people know that the earlier you sell, the better price you can get for your coupons.
"The discounts we quote widens daily as we get closer to the day of the festival," said another trader holding a pile of cash while making offers to the people waiting outside a moon-cake outlet to cash their coupons.
"You get cash instead of four pieces of cake that aren't healthy," he spoke in a murmur to a waiting coupon holder. Turning to a willing seller, he said: "You'd better come to find me earlier next year, say about three weeks before the festival, that is the golden period, and you can get a much better price."
Moon cake gift coupons, which resemble gift cards that usually print the brand and price of moon cakes, are a relatively new item that emerged only a few years ago. People who have the gift coupon can get the moon cake from the store without paying extra.
Nowadays, more people prefer to send coupons to each other instead of giving moon cakes in person.
"People don't like to eat moon cakes nowadays. They just need to buy famous-brand moon cakes and send them to others as gifts," said a scalper surnamed Zheng from Anhui province who sat at Wujiang road with a big sign reading "moon cake gift coupons needed".
Sometimes, the scalpers' customers even include purchasers from companies, because in China many companies choose to give their employees moon cake gift coupons as part of their benefits.
"They (the licensed cake moon stores) give you a 20-percent discount if you buy more than 50 boxes at once," said a scalper surnamed Xu, holding two thick envelops of coupons, "but I can offer you up to a 40-percent discount."
Furthermore, the trading prices of moon cakes even go online.
"I'm sick of receiving those gift coupons," said Zhang Qiqi, a senior manager of an America-based textile trade company. "I need to buy gift coupons for my clients, and meanwhile I also receive different gift coupons from others."
"I need to go through this every year," she said.