Inflation causes split opinion
Updated: 2011-09-13 09:55
By Chen Keyu (China Daily)
| | | | | | | | | | | |
| --- | --- | --- | --- | --- | --- | --- | --- | --- | --- | --- |
|   | | Comments() | | Print | | Mail | | Large Medium  Small | 分享按钮 | 0 |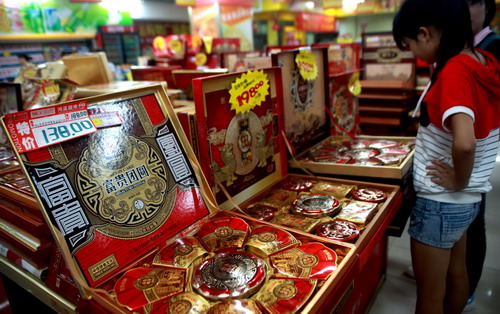 Swelling inflationary pressure has led to a further rise in the retail price of yue bing (moon cakes) this year, a Chinese bakery product traditionally eaten during the Mid-Autumn Festival. Some Chinese economists wonder whether the growth in Chinese people's income will ever catch up with that of the country's consumer price index. [Photo /  China Daily]
Some blame wage rises while others point the finger at excessive liquidity
BEIJING - A rise in the cost of labor is the main culprit behind the latest round of price hikes, an expert said, adding that wage rises are likely to increase inflation.
In an article published in Shanghai Securities News in late August, Liang Da, an expert with the National Bureau of Statistics, said that wage rises are a "double-edged sword" in that they raise people's purchasing power and expand consumption but also increase production costs.
"If producers raise prices it causes a rise in the producer price index (PPI), worsening inflation," said Liang.
Rapid growth in wages would exacerbate inflation, which could lead to "a spiraling upward trend" in both wages and prices, which should be avoided, wrote Liang.
China's consumer price index (CPI), a major gauge of inflation, rose year-on-year to a 37-month high of 6.5 percent in July, although the CPI growth dropped to 6.2 percent in August, said the National Bureau of Statistics on Sept 9.
Now wages are rapidly rising, said Liang, adding that the minimum wage has been increased in 18 areas since the beginning of the year.
"The highest minimum wage a month was 1,320 yuan ($206), in Shenzhen, South China's Guangdong province, while the highest on an hourly rate was 13 yuan in Beijing," he said.
According to the article, wages in the Pearl River Delta region, the hub for China's manufacturing industry, rose more than 30 percent with pay for ordinary workers averaging nearly 3,000 yuan a month - too much for some enterprises.
Liang said the rapid rise in wages was a result of local governments increasing the minimum wage and a shortage of labor.
"Facing a labor shortage, China-based enterprises have no option but to resort to boosting wages and welfare to attract workers," he wrote.
In the article, Liang said the rise in personal incomes outpaced that of the CPI.
The first half of the year saw a year-on-year increase of 13.2 percent in the per capita disposable income of urban residents. The growth was 7.6 percent with inflation taken into account, according to Liang.
In the first half, the rise in personal incomes, with inflation adjusted, outpaced the rise in the CPI by 2.2 percentage points for urban residents and 8.3 percentage points for rural residents, according to Liang.
However, the rise in personal incomes was offset by the rise in food prices, he added.
The first six months of this year saw a year-on-year increase of 11.8 percent in food prices. In July, the figure was 14.8 percent, contributing 4.3 percentage points to the month's CPI reading, while pork price rose 56.7 percent, contributing 1.46 percentage points to the CPI figure.
Labor costs also rose faster than the cost of raw materials in recent years, Liang added.
According to recent figures, the proportion of the cost of labor out of the total cost of goods rose from 11.1 percent in 2009 to 12.3 percent last year, up 1.2 percentage points, while the proportion of the cost of raw materials rose by 0.9 of a percentage point from 63.1 percent to 64 percent over the same period.
Wang Jun, an economist at China Center for International Economic Exchanges (CCIEE), put forward a contrary opinion. He discounted any significant link between wage rises and inflation, saying the main reason for high prices is excessive liquidity in the market.
"It is the fact that there has been too much liquidity in recent years that has caused recent price hikes," said Wang. "The rise in labor costs is among the reasons behind the inflation but it is not a main culprit."
He also said that incomes should be increased further because income growth was offset by rising inflation.
"It is obvious the rise in residents' income is outpaced by the CPI rise," he said.
China has entered a period that will see a rapid increase in wages, which is likely to last a decade, Liang predicted.
"Price hikes, soaring property prices, labor shortages and improvement in migrant workers' education levels are all factors contributing to the wage rises," he wrote.