ICBC stays on overseas expansion track
Updated: 2011-08-26 09:25
By Wang Xiaotian (China Daily)
| | | | | | | | | | | |
| --- | --- | --- | --- | --- | --- | --- | --- | --- | --- | --- |
|   | | Comments() | | Print | | Mail | | Large Medium  Small | 分享按钮 | 0 |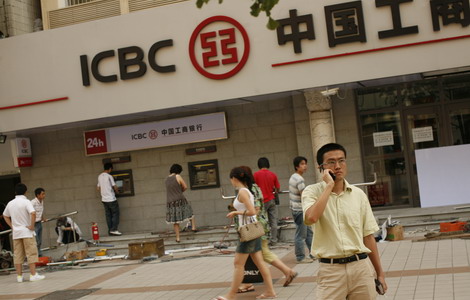 A branch of Industrial and Commercial Bank of China Ltd in Beijing. The lender's first-half net profit jumped 29 percent year-on-year to 109.6 billion yuan. [Photo / Bloomberg] 
Volatile markets won't change plans; bank reports 29% rise in net profit
BEIJING - Industrial & Commercial Bank of China Ltd (ICBC) said on Thursday that it would continue expanding overseas despite increasingly uncertain global financial markets, as it reported interim net profit of 109.6 billion yuan ($17.1 billion).
Chairman Jiang Jianqing said ICBC would maintain its development plans for both the developed and emerging markets, and it would rely on both organic growth and acquisitions.
"It is in line with our development strategy to expand overseas and diversify risks. We will head for the international market in a sustainable way by jointly taking pace, scale and profit into account," said Jiang.
ICBC, the world's biggest lender by market capitalization, aims to draw 10 percent of its assets and profits from overseas operations by 2016, up from 4.51 percent in terms of overseas assets and 3.8 percent in profits at present, mainly by exploring emerging countries, said Jiang.
In the coming months, the bank will open several new branches overseas, he said, adding that facilities in India, Cambodia and Laos had already been approved by regulators on both sides.
ICBC has opened five branches in Europe this year, and it has applied to open new branches in Peru and Brazil. As of the end of June, ICBC had a network in 29 countries and regions.
But Jiang seemed dismiss the idea of buying the stocks of foreign financial institutions to lift the bank's performance globally. "Today, it is very difficult to find an investment opportunity as good as buying the shares of Chinese companies. A sober investor will make the right decision."
As of June 30, ICBC had overseas assets of $103.9 billion, up 37.2 percent from the end of 2010.
Profits from overseas institutions reached $735 million in the first half, rising by 43 percent year-on-year.
ICBC's net profit increased by more than 29 percent year-on-year in the first half, the lender said in a statement on Thursday.
The results exceeded the median 106 billion yuan estimate of eight analysts in a Bloomberg News survey.
Compared with other Chinese banks, ICBC has been aggressive in promoting its overseas presence through acquisitions.
It announced earlier this month that it will buy an 80 percent stake in the Argentine division of South Africa's Standard Bank Group Ltd for $600 million, which is its biggest takeover in nearly four years. The transaction is expected to be wrapped up in the first half of 2012.
Six months ago, ICBC acquired 80 percent of Bank of East Asia Ltd's US business for $140 million.
It also has a 20 percent stake in Standard Bank, Africa's top bank by assets.
"As of today, we have already made 11 acquisitions, and every purchase is successful," said Jiang. The bank has set up a unified information-technology platform to integrate nine main business lines globally and better manage its overseas institutions, he added.
Natural choice
"Although ICBC is the world's largest lender by market value, the scale of its internationalization doesn't accord with the bank's scale.
"Therefore it is a natural choice for ICBC to develop overseas," said Guo Tianyong, director of the Research Center of the Chinese Banking Industry at the Central University of Finance and Economics.
Guo added that China's tightened control over new credit this year contributed to banks' greater willingness to explore overseas markets.
But ICBC is still under capital pressure, as regulators will impose higher requirements on lenders as of 2012. As of end-June, the bank's core capital-adequacy ratio had dropped by 0.15 percentage point from the end of last year to 9.82 percent.
Jiang said in the future, the lender will prefer to supplement capital with profits. However, he said that he couldn't rule out the possibility of selling more subordinated notes, given that ICBC is still eligible to sell about 100 billion yuan of those securities under current regulations.
The bank sold 38 billion yuan of subordinated bonds in late June to replenish capital.
Its non-performing loan ratio stood at 0.92 percent, said Yang Kaisheng, president of the bank.
ABC results
Agricultural Bank of China Ltd (ABC) also released results on Thursday, reporting a 45.4 percent increase year-on-year in net profit to 66.7 billion yuan, the fastest growth rate among the five major State-owned banks.
Its total assets exceeded 11 trillion yuan at the end of June, with profit from overseas institutions up 42.5 percent year-on-year and profit from business at the county level surging 78.6 percent.
ICBC shares were up 2.45 percent to 4.18 yuan on Thursday, while ABC rose 2.33 percent to 2.64 yuan ahead of the half-year reports.