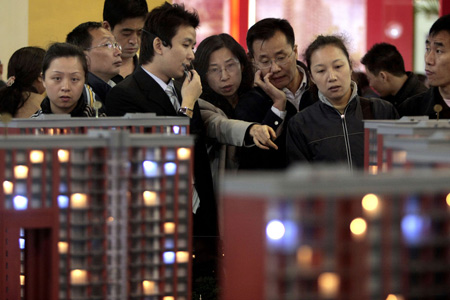 People inspect a model of a housing development in Nanjing. Industry sources say more lenders will cut favorable mortgage terms for first-time buyers to 85 percent of the benchmark rate from the existing 70 percent. [China Daily]
Analysts advise investors to 'steer clear' of real estate stocks
China's leading property developers yesterday reported robust sales growth in January, but their shares' performance was mixed due to concern about further tightening of real estate policies.
Shanghai-listed Poly Real Estate Group Co Ltd, the country's second largest property developer by market value, said its contracted sales grew 141.67 percent year-on-year to 3.3 billion yuan in January. Another industry giant, Hong Kong-listed China Overseas Land & Investment Ltd, posted a 241 percent surge in property sales last month, valued at HK$4.1 billion. Guangzhou-based Evergrande Real Estate Group Ltd said contracted sales in January increased 331 percent from a year earlier to 3.48 billion yuan.
Despite the rosy figures, shares of Poly remained at the same price yesterday though the Shanghai Composite Index advanced 0.47 percent. However the company's peers listed in Hong Kong staged a much stronger performance. Shares of China Overseas Land climbed 2.4 percent, and that of Evergrande soared 5.1 percent, compared with the 1.2 percent advance of the Hang Seng Index.
"Though property firms expected strong revenue growth and their share prices have dropped a lot, I would still suggest investors steer clear of real estate stocks in the first quarter, as further tightening measures are still in the pipeline," said Su Xuejing, an analyst at Changjiang Securities.
Industrial and Commercial Bank of China (ICBC) said on Monday it would apply stricter approval rules to property lending this year as part of an effort to balance its loan structure and stem rising credit risks. The bank said it would not issue new loans to developers who seek to speculate on rising property prices through "hoarding land" or "putting off home sales" and may also call back earlier credit to such borrowers.
Related readings:


 ICBC to curb property loans


 Property and retail are top picks: Robeco


 Property tycoon clarifies hefty salary


 Govt to share property rights of affordable housing
Industry sources say more lenders will cut favorable mortgage terms for first-time buyers to 85 percent of the benchmark rate from the existing 70 percent, as rising property prices make bank loans more risky.
Bank of China, the nation's third largest lender by market value, said early this month that it cut the discount on mortgage rates offered to individual borrowers in an effort to improve its loan structure.
"The tightening of credit policies will have a serious impact on the property market, since it will reduce property sales," said Su. "Moreover, we are expecting an interest rate hike in the first quarter that will largely squeeze out investment-oriented purchases."
Statistics from Centaline China show that home sales in major cities declined in January from a month earlier as buyers continued to show reluctance to enter the market because of uncertainty about policy.