SHANGHAI: DNA tests may be able to verify if the newly discovered tomb in central China's Henan province housed the remains of Cao Cao, a politician and general from the Three Kingdoms period (AD 220-280). Scientists will take samples of DNA from the tomb and from Cao Cao's descendants to try and solve the mystery.
Archeologists have successfully located three regions where Cao's descendants might live today, experts with the Shanghai-based Fudan University said yesterday.
Related readings:


 Genetic analysis may lead to ancient tomb truth: experts


 Experiment launched to prove authenticity of Cao Cao's tomb


 Park planned for Cao Cao tomb
The discovery of a big tomb on Dec 27 last year, which local archeologists said belongs to Cao, has sparked a debate among Chinese citizens over the authenticity of the evidence recovered from the ancient structure, buried in a remote village of Henan province.
Experts with Fudan University are trying to get DNA from Cao's descendants and compare it with the DNA from a skull uncovered in the tomb.
Han Shen, an archeology professor with Fudan University, said pedigree is a tool to prove which people are in Cao's family tree and find out where they live. Archeologists have checked 118 out of 258 pieces of Cao's descendants.
The research has shown that Cao's offspring are likely in three regions: the juncture of Anhui, Shandong,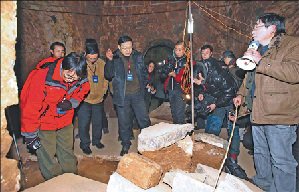 File photo shows archaeologists inspect a recently unearthed tomb in Anyang, Henan province. The local archeological administration believes the mausoleum belongs to ancient warlord Cao Cao (AD 155 to 220). [Wang Yongji] 
Jiangsu and Henan provinces; the area near Jinhua, Shaoxin and Xiaoshan cities in Zhejiang provinces; and some regions along the Yangtze River, such as Hunan province and even Shanghai.
Archeologists suggested anthropologists pay particular attention to those descendants from Jinhua of Zhejiang province. Clear evidence exists that they are Cao's offspring.
"Findings of those could help us to collect the DNA samples easily," said Li Hui, director of the Cao's tomb project with Fudan University.
"Instead of waiting for volunteers to provide their DNA samples, we decided to collect by visiting those areas that are defined by the archeologists," Li said.
(China Daily 02/10/2010 page6)