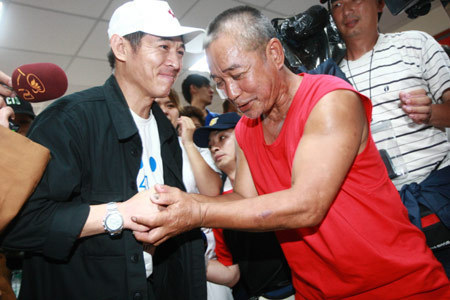 Kung fu star Jet Li visits survivors of Typhoon Morakot in Taiwan, Aug 15, 2009. [Source: One Foundation]
The One Foundation Project, initiated by Chinese kung fu star Jet Li, has allocated 300,000 yuan ($43,800) to Taiwan for typhoon relief, the foundation said on Sunday in Beijing.
Jet Li himself flew to the typhoon-battered areas in southern Taiwan on Aug 14 to comfort survivors and help with disaster relief, said Zhou Weiyan, executive chair of the foundation.
Li also joined fellow celebrities including Hong Kong actor Andy Lau in a televised fundraiser on Friday to raise money for victims of Typhoon Morakot, the worst typhoon on the island in nearly five decades.
Related readings:


 With Jet Li-One Foundation charity


 Li's foundation powers Sichuan walk


 Versace, Jet Li visit quake-affected kids in SW China


 With Jet Li
By 10 pm Saturday, Morakot had killed at least 124 people and left 56 missing in Taiwan, according to local disaster response authorities. Another 45 people were injured.
The One Foundation was founded on April 19, 2007, by Jet Li, who starred in Kiss of the Dragon in 2001, Hero in 2002 and a number of other kung fu movies.
The foundation calls for each person to donate at least one yuan each month, so that individual donations can be transformed into a much greater fund.