A group of volunteers, including some public figures, will walk in Sichuan's Wenchuan county, epicenter of the May 12 earthquake, together with "walkers" in cyberspace on May 10 to call for continuous attention and aid for reconstruction of the quake-hit areas.
The activity is initiated by One Foundation, a philanthropic project affiliated with the Red Cross Society of China and founded by international martial-arts master and movie star Jet Li.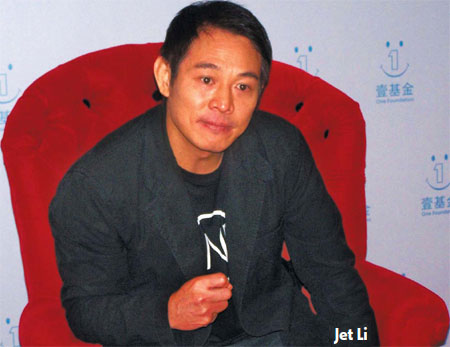 Li said he was inspired by "Walk for Millions", the flagship fund-raising event of independent nonprofit organization the Community Chest of Hong Kong, to initiate "One Family, Go Together", which will take place on the second Sunday of May each year. But it will take on a modified form, he said.
This year, only a few selected participants, to be announced on the foundation's website, will walk some 15 kilometers (with 5.12 kilometers between stops) in Wenchuan, 92 kilometers from the provincial capital Chengdu. Walkers will include celebrities from sports, entertainment and business circles, but Li did not elaborate on who they are or how many people will attend the Wenchuan event, "because we're still drafting the rules."
All "family members" of One Foundation will be invited to download software and use their computers or cell phones to participate in the "walk" in the virtual world. They can also support their favorite walkers in Wenchuan via the Internet or cell phone text messages.
As the event is aimed to promote the charitable culture and public welfare efforts, the theme and venue may change each year as deemed necessary.
"Maybe, some day we'll walk in Africa," he said. '"One family' has no nationality requirement."
An 8.0-magnitude earthquake struck parts of Southwest China on May 12, 2008, leaving more than 80,000 people dead or missing and some 375,000 others injured, according to Xinhua News Agency. It was by far China's deadliest since 1976, when a 7.8-magnitude quake devastated Tangshan, near Beijing, and killed more than 240,000 people.
Li, renowned for his kungfu skills and action movies, suspended shooting movies last year to devote himself to helping relief and post-quake reconstruction work.
He and his One Foundation, launched in 2007, made headlines when the foundation raised more than 63 million yuan for disaster relief just two weeks after the quake ravaged Sichuan. As of Dec 31, it had spent 78 million yuan worth of donations, of a total of 131 million yuan it raised in 2008, on relief and reconstruction in quake-stricken areas.
In Li's view, last year marked the real beginning of philanthropy in the Chinese mainland, when Chinese people from home and abroad poured in money and relief materials to help people in need in the aftermath of first a rare snow and ice disaster in January and then the May 12 earthquake.
"I hope enthusiasm about charities won't cool down," he said, referring to many Chinese who oftentimes regarded donations as kind of fulfilling a task assigned by government or Party organizations when a disaster hit but forgot about the matter altogether not long after.
To promote continuous care for the needy and facilitate charitable activities by individuals, companies and organizations, One Foundation will launch a new, interactive website in mid-April, Li said.
It will feature a database about global NGOs and an interactive platform for global charities, volunteers, NGOs and people in need.
One Foundation, founded by Li under a strategic partnership with the Red Cross Society of China, focuses on education, health, environment and poverty. It promotes philanthropy among the general public by advocating "1 person + 1 dollar/yuan + 1 month = 1 big family".
"If each person donates at least one dollar/yuan each month, our individual donations can be transformed into a much greater fund," says a statement posted on its website. "When we combine our charitable strength, we can make sure that the most vulnerable members of our global family will receive the help they need."
(China Daily 04/13/2009 page10)