Looking overseas for new-energy vehicle ideas
Updated: 2013-11-13 14:38
The Ministry of Commerce is encouraging domestic auto companies to utilize foreign investment and technology to boost their development of energy-saving and new energy vehicles, a senior official said.
The ministry will introduce preferential fiscal and taxation policies to encourage auto companies to import new energy vehicles' key components; promote international technology cooperation such as outsourcing, joint development and application for patents overseas and support eligible companies to become listed overseas to attract foreign capital, diversifying their usage of foreign investment.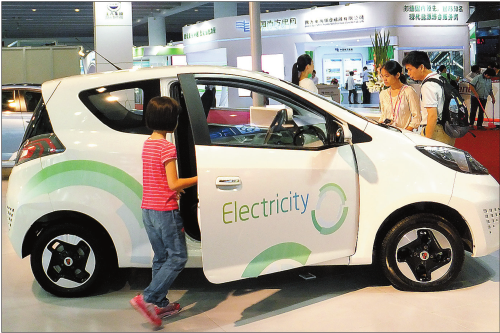 A child examines a car at an automobile show in Guangzhou, the capital of Guangdong province.[Photo/China Daily] 
As the national authority of foreign investment, the Ministry of Commerce will work out more and better methods of utilizing foreign investment to implement the country's 12th Five-Year Plan (2011-15) of developing new energy vehicles, which has become a strategic emerging industry, according to Qiu Lixin, deputy director of the ministry's department of foreign investment administration, on Nov 9 at the 2013 China International Green Innovative Products and Technologies Show, which was held in Guangzhou from Nov 8 to 11.
Qiu said China's new-energy vehicle industry is still in its infancy, with sagging market demand, a lack of key technologies, poor research and development, and restricted industrialization and commercialization in the sector.
"There is a big gap between China's new-energy vehicle industry and those in Japan and the US," she said.
According to the State Council's development plan (2012-20) of energy-saving and new-energy vehicles, the production and sales of electric vehicles and plug-in hybrid electric vehicles should be increased to 500,000 by 2015 and 5 million by 2020.
This is a difficult task for the industry, Wu Zhixin, vice-president of the China Automotive Technology and Research Center, pointed out at the seminar on the development of energy-saving and new-energy vehicles.
As is shown by Wu's center's survey, 39,768 new energy vehicles had been put into use by March in the 25 pilot cities appointed by the central government since 2009. But the number is still far from the goal set for 2015.
"Most of these vehicles are used in the public sector. Although private purchases are subsidized in six of the 25 cities, individuals' desire to buy new-energy vehicles is low. For example, the sales of private new-energy cars are zero in Changchun, one of the six cities," Wu said.