US tariff signal PV industry protectionism
By Xie Yu in Shanghai and Li Jiabao in Beijing (China Daily)
2012-05-25 09:03
| | |
| --- | --- |
| | |
Competitive advantage 'isn't from dumping', Suntech's CEO says
Chinese solar panel manufacturers on Thursday expressed strong opposition to the anti-dumping tariff imposed by the United States and warned that the decision will harm the US economy.
"Chinese companies are against trade protectionism and oppose a trade war. But if our companies are treated unfairly, we reserve the right to urge our government to retaliate," Shi Yonghong, vice-president of the China Chamber of Commerce for Import and Export of Machinery and Electronic Products, said at a news conference in Shanghai jointly held by more than 10 Chinese solar panel makers.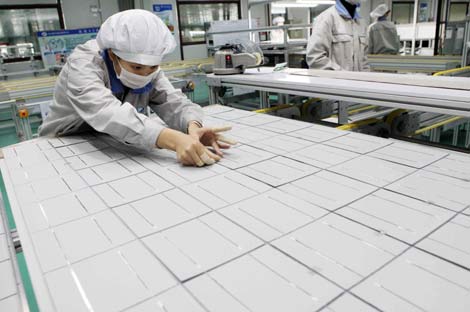 A technician at a factory in Ganyu, Jiangsu province, conducts final inspections of solar components bound for export. Chinese solar panel producers oppose a US move to impose higher tariffs on such panels. [Photo / China Daily]
The US Commerce Department announced duties of between 31 and 250 percent on Chinese-made solar panels last week, claiming they are being "dumped" in the US market at below-cost prices.
If the preliminary decision is upheld in October, the Chinese solar companies will face these heavy tariffs, in addition to fees ranging from 2.9 to 4.73 percent imposed in March, after the department found that China was "improperly subsidizing its solar manufacturers".
Solar power is used by more and more people, and prices have fallen by 50 percent in recent years. Some say China may retaliate by imposing high tariffs on commodities imported from the US, including polysilicon.
To produce solar cells, China imports more than $2 billion of polysilicon, sizing agents and other raw materials from the US every year, according to the CCCME.
Shi did not confirm if Chinese authorities will take that action, but he said China will try every means to protect the legitimate interests of the companies.
Further, he warned, the new tariffs might hurt employment in the US solar industry.
That industry offers about 100,000 jobs, many of which were created by Chinese companies and their downstream distributors and installers, Shi said.
If the price for solar is pushed up by the new tariffs, many people might lose their jobs, he added.
The falling price of silicon, a supply glut and weak demand have been squeezing US solar companies, and some complained that Chinese companies are using subsidized products to flood the US market. Chinese companies don't agree.
"The very reason that the China-based photovoltaic industry enjoys a competitive advantage is its concentrated development, first-class management, economies of scale and a forward-looking strategy, not dumping," said Shi Zhengrong, CEO of Suntech, the world's largest maker of silicon solar modules.
"Although the US authorities accepted some materials we submitted, we believe the determination distorts the manufacturing and exporting status of China's PV industry," he added, urging the US to be more objective in follow-up investigations.
China's Ministry of Commerce found six US policies of supporting or subsidizing the US renewable energy industry to run counter to World Trade Organization rules.
It also found that these policies constitute trade barriers and distort normal trade between the world's two largest economies, said a statement on the website of the ministry on Thursday.
The ministry's preliminary investigation found that the policies and measures of the US renewable energy industry belong to prohibited, or red-light, subsidies under WTO rules.
The investigation started on Nov 25 following the requests of the China Chamber of Commerce for Import and Export of Machinery and Electronic Products and the China New Energy Chamber of Commerce.
Ren Yifeng, executive secretary-general of the China Society for WTO Studies, said that China's move aimed to strike back at the heavy antidumping duties imposed on Chinese solar products by the US.
"The trend of developing clean energy is encouraged by all countries. But the US set a bad example by turning to trade protectionism. China's move is driving the US to reflect on its domestic measures in subsidizing the clean energy industry," he said.
Contact the writers at xieyu@chinadaily.com.cn and lijiabao@chinadaily.com.cn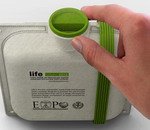 An Italian designer, Andrea Ponti, designed a recycled paper-made water container for the Milano Expo 2015, according to yankodesign.com.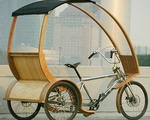 The Bamboo treecycle developed by MGT Engineering Ltd is on dispay at the 21th China Int'l Bicycle and Motor Fair.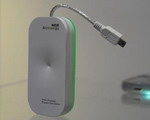 A US electronics company invented a charger that draws its power from Wifi signals.
Twenty-one private enterprises from China will join the China Going Green Dialogues - part of the 2012 UN Conference on Sustainable Development, known as Rio+20 - in June, in Rio de Janeiro, Brazil.
Heilongjiang Forest Ecological Tourism Festival, an event aiming to promote healthy and environmentally friendly tourism, will be held in Yichun, Heilongjiang province, on July 13.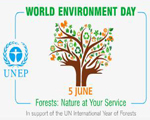 World Environment Day is an annual event that is aimed at being the biggest and most widely celebrated global day for positive environmental action. The theme this year is Forests: Nature At Your Service.