Hannover Industrial Exposition concludes
(Xinhua)
2012-04-28 15:00
| | |
| --- | --- |
| | |
HANNOVER - Under the slogan of "Green + Intelligence", China as the Partner Country of the 2012 Hanover Industrial Exposition this year showcased a series of sustainable growth solutions during the five-day event concluded on Friday.
The participation of 500 Chinese companies presented China as "an equal partner and an important market and technology driver", said Dr Wolfram von Fritsch, Chairman of the Managing Board of Deutsche Messe, at the press conference on the last day of the show. 
Out of a record number of 195,000 visitors, more than 50,000 were from outside Germany attending the world's largest and most influential industrial technology fair, regarded by many as a barometer of the global industry. The figure is one third more than that of year 2008, right ahead of the setting off of a global financial crisis which still haunts the world even today.
"All the right topics, a further rise in participation from abroad and highly satisfied exhibitors, all this point to the fact that this year's Hannover Industrial Expo added up to a complete success," said von Fritsch.
By focusing on the keynote topic of "greentelligence", the expo highlighted green technologies as a viable business model with the power to drive growth across the world.
According to Fritsch, about one in five visitors to the Fair was a CEO or company owner. Professionals accounted for 95 percent of all attendees - a jump of five percent compared with 2008.
"This mix of international participation, thematic excellence and high-caliber decision-makers defines Hannover Industrial Expo as the international benchmark for new business generation and networking in the industrial, government and research sectors," von Fritsch added.
The next year's Hannover Industrial Exposition will be held from April 8 to April 12, 2013.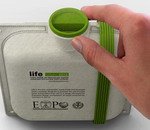 An Italian designer, Andrea Ponti, designed a recycled paper-made water container for the Milano Expo 2015, according to yankodesign.com.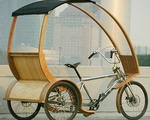 The Bamboo treecycle developed by MGT Engineering Ltd is on dispay at the 21th China Int'l Bicycle and Motor Fair.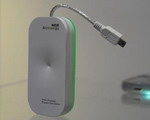 A US electronics company invented a charger that draws its power from Wifi signals.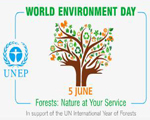 World Environment Day is an annual event that is aimed at being the biggest and most widely celebrated global day for positive environmental action. The theme this year is Forests: Nature At Your Service.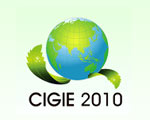 The China International Green Industry Expo 2010 (CIGIE 2010) is an important international green industry exhibition hosted by the Chinese government and held at the Beijing Exhibition Center, Nov 24 to 27.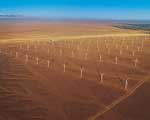 China Wind Power 2010 is the largest and most important international wind power conference and exhibition in China.