China, US firms sign biofuel deal
(Xinhua)
2012-02-18 13:50
| | |
| --- | --- |
| | |
BEIJING -- China's biggest egg producer said Friday it will cooperate with a major US meat supplier to establish a biofuel company in the United States with a total investment of $1.8 billion.
Beijing DQY Agriculture Technology Co Ltd (DQY) and Virginia-based Smithfield Foods will set up a joint venture co-run by their subsidiaries, Beijing Helee Bio-Energy (HELEE) and Murphy-Brown, DQY said in a press release.
The joint venture will adopt core technologies from HELEE and launch a pig farm biogas project this year, the company said, citing an agreement it signed with the Smithfield Foods in Des Moines, capital of the US state of Iowa, on Thursday.
According to the agreement, the biogas project will produce 3.5 million cubic meters of methane annually and have a power generating capacity of 1 megawatt, DQY said.
It noted the project will be able to produce 7 million kWh of electricity each year and cut 42,000 tons of carbon dioxide emissions annually.
The two companies also plan to utilize wastes at more than 2,600 pig farms of the Smithfield Foods over the next 10 years, which will lead to the reduction of carbon dioxide emissions by 21 million tons annually, four times the current yearly emission of Chicago, according to DQY.
Smithfield Foods is the largest US meat supplier with a market share in the country of 22.5 percent, while the DQY accounts for 45 percent of the Chinese egg market and has a biogas power project in Beijing that generates 14 million kWh of electricity per year.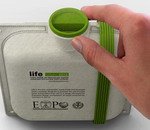 An Italian designer, Andrea Ponti, designed a recycled paper-made water container for the Milano Expo 2015, according to yankodesign.com.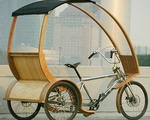 The Bamboo treecycle developed by MGT Engineering Ltd is on dispay at the 21th China Int'l Bicycle and Motor Fair.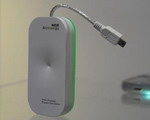 A US electronics company invented a charger that draws its power from Wifi signals.
China's most influential international exhibition of green industries is held at the China Import and Export Fair from Friday to Sunday in Guangzhou, Guangdong province.
Twenty-one private enterprises from China will join the China Going Green Dialogues - part of the 2012 UN Conference on Sustainable Development, known as Rio+20 - in June, in Rio de Janeiro, Brazil.
Heilongjiang Forest Ecological Tourism Festival, an event aiming to promote healthy and environmentally friendly tourism, will be held in Yichun, Heilongjiang province, on July 13.