Ecosystem management pivotal for a green economy
By Yue Fenghua, Cong Fangjun (chinadaily.com.cn)
2011-11-18 18:00
| | |
| --- | --- |
| | |
Beijing - The United Nations Environment Programme (UNEP) and the Chinese Academy of Sciences (CAS) co-organized a High-level International Forum on Ecosystem Management and Green Economy.
The forum aimed to contribute to the success of the United Nations Conference on Sustainable Development, popularly known as Rio+20, by highlighting the pivotal role of ecosystem management in the development of a Green Economy in China and other developing countries. For this, the Forum has come out with a communiqué which recognizes this role and recommends actions to be taken at Rio+20.
The forum was attended by over 200 participants, including heads of UN and other international organizations, leaders and ministers from the Chinese Government, renowned scientists, business leaders and representatives of the civil society. Addressing the forum, Zukang Sha, UN Under Secretary General in charge of the UN Department of Economic and Social Affairs and Secretary General of Rio+20, pointed out that the Forum's outputs would form a key input to Rio+20, in the context of the urgent need to protect and restore the world's ecosystems.
Sha recognized that ecosystems are the foundations of human life and livelihoods, but for too long, humanity has ignored this fundamental truth at its own peril, and the Earth ecosystems have been altered more rapidly and extensively than ever before. He stressed that sustainable management of ecosystems will play a critical role in advancing green economies worldwide.
This week the UN Environment Programme (UNEP) launched its flagship report in Beijing entitled, Towards a Green Economy: Pathways to Sustainable Development and Poverty Eradication. The Report demonstrates that governments and businesses alike are taking steps to accelerate a global shift towards a low-carbon, resource-efficient and socially inclusive green future.
In his opening remarks, Achim Steiner, UN Under Secretary General and UNEP Executive Director, pointed out that the Green Economy is an opportunity for developing countries, including China, to create economic and job opportunities.
Steiner highlighted the critical role that ecosystem management plays in the development of a Green Economy, quoting examples from, The Economics of Ecosystems and Biodiversity (TEEB), a broad partnership hosted by UNEP, which has supported the analysis of UNEP's Green Economy Report and which is a major international initiative to draw attention to the global economic benefits of biodiversity as well as to highlight the multi-trillion dollar costs of biodiversity loss and ecosystem degradation.
Steiner stressed the timeliness of this Forum, in the context of the upcoming UN Climate Change Conference in Durban and Rio+20 in Brazil in June, and hoped that the Forum would offer an opportunity to produce value-added recommendations, including the need for renewed political commitment at Rio+20 which would give ecosystem management the political weight and significance it deserves.
Vice President Ding from the Chinese Academy of Sciences (CAS) pointed out that in Chinese culture harmony between humans and nature was of utmost importance and that this has been reflected in the Chinese Government's policies in recent years where the focus has been the development and advancement of the ecological civilization.
Ding lauded UNEP's efforts in developing concepts such as Ecosystem Based Adaptation (EBA), Reducing Emissions from Deforestation and Forest Degradation (REDD) and the Green Economy, all of which play critical roles in the development of an eco-civilization.
China's Vice Minister of Environmental Protection, Ganjie Li, told participants that China is keen on contributing to the development of a global eco-civilization. He pointed out China's policies, including those of eco-zoning and eco-compensations, demonstrate this commitment.
In his address, Professor Honglie Sun, Academician of CAS and Director of the Advisory Committee of Chinese Ecosystem Research Network (CERN), outlined the history of ecological study in China. He emphasized on the need for ecological networks, such as CERN, which support policy making and suggested CERN as an important infrastructure in assisting other developing countries in establishing similar networks.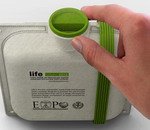 An Italian designer, Andrea Ponti, designed a recycled paper-made water container for the Milano Expo 2015, according to yankodesign.com.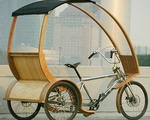 The Bamboo treecycle developed by MGT Engineering Ltd is on dispay at the 21th China Int'l Bicycle and Motor Fair.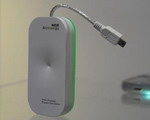 A US electronics company invented a charger that draws its power from Wifi signals.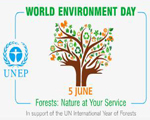 World Environment Day is an annual event that is aimed at being the biggest and most widely celebrated global day for positive environmental action. The theme this year is Forests: Nature At Your Service.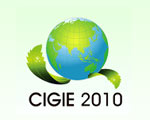 The China International Green Industry Expo 2010 (CIGIE 2010) is an important international green industry exhibition hosted by the Chinese government and held at the Beijing Exhibition Center, Nov 24 to 27.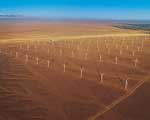 China Wind Power 2010 is the largest and most important international wind power conference and exhibition in China.