Diplomatic row a blow to Japanese brands
Updated: 2012-10-15 14:04
By Han Tianyang (China Daily)
| | | | | | | | | | | |
| --- | --- | --- | --- | --- | --- | --- | --- | --- | --- | --- |
|   | | Comments() | | Print | | Mail | | Large Medium  Small | 分享按钮 | 0 |
Yet slide in market share actually began in 2009
After September sales tumbled in the wake of tensions over the Diaoyu Islands, Japanese carmakers are now trying to restore consumer confidence - though the effect might be limited.
Toyota Motor Corp's two joint ventures in China recently announced they would pay compensation for repairs not covered by insurance on cars damaged during anti-Japanese protests last month.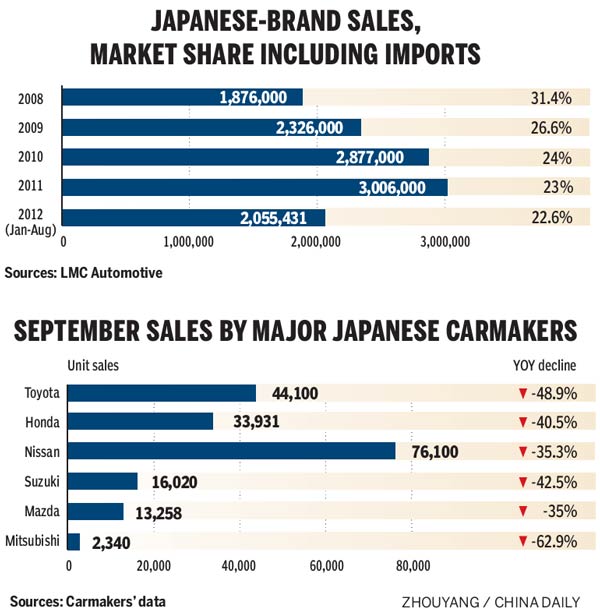 As well, Toyota owners who intend to trade in damaged cars will be offered a 20,000 yuan subsidy, the company said.
Honda's dealerships have also started to offer free repair for cars damaged in protests and provide alternative vehicles for customers during the period.
Nissan China is considering similar moves, according to spokeswomen Shen Li.
The company is collecting information from dealerships across the country and will respond later with a "comprehensive measure", she said.
But public relations crisis management by the companies is expected to have little effect in reassuring consumers and regaining growth momentum in the short term, analysts said, noting a diplomatic solution is needed.
"We can tell from the September numbers that political factors can cause a bigger blow to companies than any economic factor," said Zeng Zhiling, director of Asia Pacific Forecasting of LMC Automotive.
Significant decline
In September, all Japanese carmakers reported significant sales declines in China, as rising anger over the Japan's "purchase" of the Diaoyu Islands resulted in a boycott that included automobiles.
Toyota's sales last month tumbled 48.9 percent year-on-year to 44,100 vehicles. Nissan Motor Co sales sank by 35.3 percent to 76,100 vehicles, while Honda Motor Co sales fell by 40.5 percent from a year earlier to 33,931 units.
Smaller Japanese carmakers reported heavy drops as well. Suzuki's delivery last month was 16,202 units, a 42.5 percent fall from a year earlier. Mazda saw a decline of 35 percent to 13,258 units. Mitsubishi sold only 2,340 vehicles last month, a decrease of 62.9 percent year-on-year.
The negative impact will continue for the rest of the year and probably 2013, analysts said.
Consulting firm IHS Automotive estimates Japanese car sales in China will plummet 200,000 units this year.
The company previously forecast that Japanese brands would have nearly 10 percent growth in the Chinese market to reach a combined sales figure of about 3.29 million this year. The forecast has now been adjusted downward to 3.09 million units.
That prospect is still a bit better than the 3 million units Japanese automakers sold in China last year, when they were forced to slow production after a devastating earthquake and tsunami in Japan interrupted parts supplies.
But market research firm LMC Automotive predicts Japanese carmakers might fail to even match their figure from last year if the dispute continues.
Foreign media reported that Toyota will reduce production at its China plants by half in October and cease importing its premium Lexus cars, citing anonymous sources with knowledge of the plan. Toyota China spokesman Liu Peng later denied the reports.
Nissan China spokeswomen Shen said the company has no plans to slow production or lower its sales target this year.
Zhu Linjie, spokesman at Honda's China operations, said its two joint ventures are not running at full capacity, but declined to disclose how much production has been cut.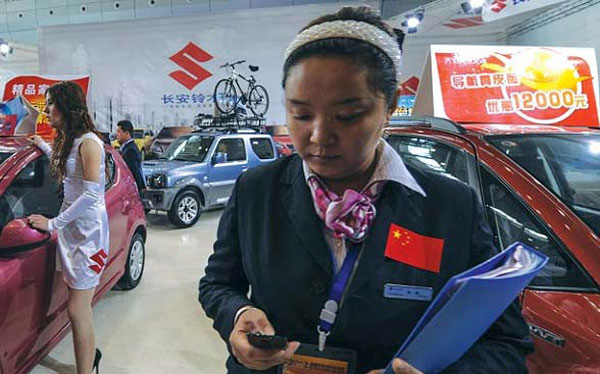 Smaller Japanese carmakers also reported heavy drops. Suzuki's delivery last month was 16,020 units, a 42.5 percent fall from a year earlier. [Liu Xin / China New Service]