Massive recall latest in Toyota's woes
Updated: 2012-10-15 13:49
By Han Tianyang (China Daily)
| | | | | | | | | | | |
| --- | --- | --- | --- | --- | --- | --- | --- | --- | --- | --- |
|   | | Comments() | | Print | | Mail | | Large Medium  Small | 分享按钮 | 0 |
This time models sold in China included at outset
In a sales slide with other Japanese carmakers due to the ongoing dispute over the Diaoyu Islands, Toyota hit another bump when it recently launched the recall of 1.4 million vehicles in China to fix defective electric window switches, its largest-ever recall in the country.
It is part of a massive global recall of 7.4 million vehicles over the same problem, including more than 2.4 million vehicles in the United States and about 1.4 million in Europe.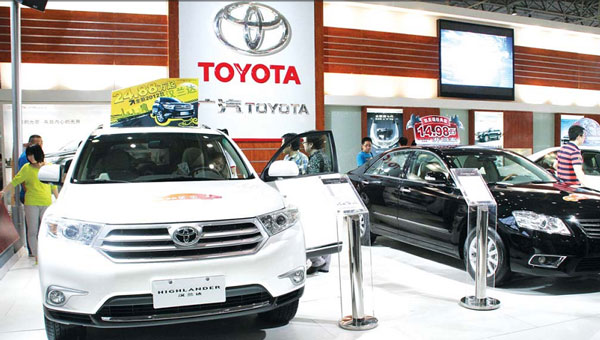 Toyota's recently announced recall of 1.4 million vehicles includes the Camry, Camry Hybrid, Yaris, Highlander, Vios, Corolla and RAV4 models. [Wu Changqing / for China Daily] 
Affected models in China are the Toyota Camry, Camry Hybrid, Yaris, Highlander, Vios, Corolla and RAV4 whose production dates range from 2005 to 2010.
"It won't have much negative impact on the company, as the window problem is not a big deal," said Zhang Yu, director of industry consultancy Automotive Foresight (Shanghai) Co Ltd.
Lin Huaibin, an auto analyst with IHS Automotive, agreed that it's "normal" for automakers to recall vehicles and it won't be a big blow to Toyota.
But launching a simultaneous worldwide recall shows that Toyota learned the lesson from its previous slow reaction in China, said some commentators.
Lesson from the past
Toyota made a massive, serial global recall in 2009 over faulty accelerator pedals, but included vehicles in China later than other markets, and then mostly due to pressure from public opinion.
Toyota was widely criticized at the time because consumers suspected the company initially tried to deliberately avoid recalls in China.
In an attempt to clear consumer worries about vehicle quality, the carmaker's CEO Akio Toyoda flew to Beijing to apologize and explain in 2010.
In addition to Toyota, most carmakers in China have long been reluctant to recall faulty vehicles because penalties are negligible and local consumers often misunderstand the concept of a recall, viewing it as a synonym for poor quality.
Statistics show that since the current regulation went to effect eight years ago, automakers have launched about 370 recalls in China affecting more than 6 million vehicles. The number does not reflect the huge yearly sales in the country - which reached 18 million units last year.
And among all the recalls, only a small fraction came from homegrown carmakers. Statistics from the China auto recall website shows that among the 56 recalls to date this year, only five were by domestic manufacturers.
New regulation
Yet the country is in the final stages of adopting new regulations with heavier penalties for companies that cover up problems.
The State Council last week discussed and passed a new regulation governing vehicle recalls, which is likely to be implemented soon.
According to a draft of the new law released in February, companies will face a maximum fine equal to 10 percent of the total value of affected products if they are found to hide defects to avoid recalls.
That would mean a fine of 10 million yuan if a company tries to hide problem and refuses to recall 1,000 defective cars with average price at 100,000 yuan. The current rule formulated in 2004, however, only imposes a maximum total fine of 30,000 yuan, regardless of how many cars are affected and how much they cost.
"It's a good news for the consumer," said Zhang with Auto Foresight. "The new law will be more deterrent to those who want to cover up problems."
"Previously some carmakers would have recalls on trivial defects to showcase their responsibility, yet avoid the more severe problems by solving them behind the scenes," Zhang said.
"To not have a due recall could be worse than having it - for the companies themselves rather than due to legal punishments," said Lin with IHS Automotive.
"In such a highly competitive market, hiding problems will damage a brand if it is exposed by the media," he said.
hantianyang@chinadaily.com.cn