Bank: No cats on 100-yuan note
Updated: 2012-02-09 10:34
By Cheng Yingqi (China Daily)
| | | | | | | | | | | |
| --- | --- | --- | --- | --- | --- | --- | --- | --- | --- | --- |
|   | | Comments() | | Print | | Mail | | Large Medium  Small | 分享按钮 | 0 |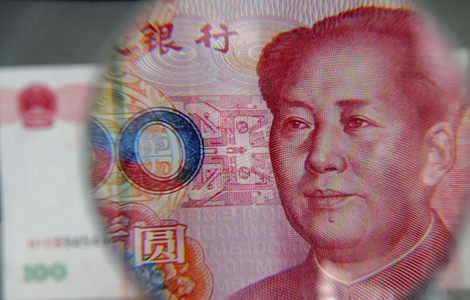 An online post has claimed there are three cartoon cats on the 100-yuan note, but China's central bank denies this and says the prints are based on ancient lacquerware. [Photo / China Daily]
BEIJING - The Chinese Internet is abuzz over what many believe to be an inconspicuous illustration of three cartoon cats on the 100-yuan ($16) note, though officials from the central bank claim people's imaginations are getting the better of them.
Earlier this week, an online post said there is a design of three cartoon cats on the 100-yuan note beside the portrait of Chairman Mao Zedong.
The post soon became a hot Internet topic. By Wednesday, 28,000 related comments had already been posted on Sina Weibo, a popular Chinese micro-blogging service.
China has published five series of RMB since 1948. The currently circulated RMB note, which includes denominations up to 100 yuan, was put into use in 1999.
If you rotate the 100-yuan bill 90 degrees, you will find the cat-like prints next to Mao Zedong's portrait, according to the post.
"It indeed looks like three cats, one standing in the middle, the other two kneeling on both sides. That is funny. How is it that I have never noticed before?" said Liu Chen, 26, from Beijing.
"I can only see the cat in the middle, and the kneeling cats on the sides are a little far-fetched," said Jian Biao, 26, also from Beijing.
On Tuesday, the People's Bank of China released a statement saying the prints are not cartoon cats. According to the bank, the patterns are based on lacquerware dating back to the Warring States Period (475 - 221 BC). But the meaning of the prints remains unclear.
"From the prints on the 100-yuan bill, it is hard to tell what is the exact meaning of the figure," said Zhang Tian'en, a researcher with the Shaanxi Provincial Institute of Archeology.
Zhang said he has not seen similar patterns in his studies of ancient lacquerware and bronzeware.
"The artistic concept looks a little like the State of Chu during the Warring States period, but it is different," Zhang said.
"And the figure on the RMB only includes an independent part of the ancient design. Without the entire design, it is hard to tell where it is from."
Li Xueqin, a historian and expert in ancient writing at Tsinghua University, said it is hard to ascertain what the illustration is because it is not completely clear.
"But one thing for sure is that the figure has no relation to cats at all."
Wang Xiaotian contributed to this story.