Simpler visa procedures are passport to success
Updated: 2012-02-08 09:26
By Xin Dingding, Zheng Yangpeng and Shi Yingying (China Daily)
| | | | | | | | | | | |
| --- | --- | --- | --- | --- | --- | --- | --- | --- | --- | --- |
|   | | Comments() | | Print | | Mail | | Large Medium  Small | 分享按钮 | 0 |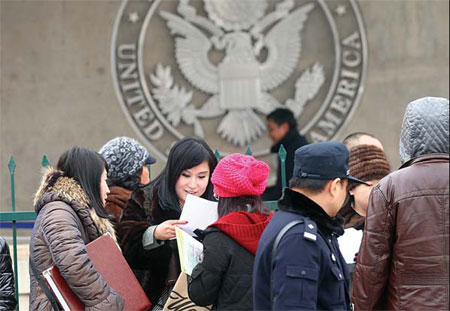 Visa applicants gather outside the US embassy in Beijing on Jan 30. [Photo / China Daily]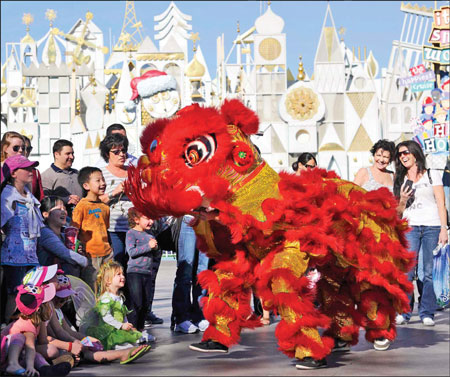 The dragon dance produces smiles outside the It's a Small World ride at Disneyland during Spring Festival. About 1,000 Chinese mainlanders visited the California park on Jan 25. [Photo / Agencies]
Travel agencies and destination countries try to cash in on a predicted spending and tourism surge, Xin Dingding, Zheng Yangpeng and Shi Yingying report from Beijing and Shanghai.
The ever-increasing number of Chinese tourists means that more and more countries are trying to simplify visa red tape.
A prime example of this occurred just last month. US President Barack Obama promised that procedures in China for non-immigrant visas will be much more efficient.
Travel services and destination countries are positioning themselves to cash in on the expected tourism surge.
Li Meng of China International Travel Service said that the company doubled the number of April-October air tickets it usually buys for China-US flights. This is the route's peak travel season.
Figures back the confident outlook. The number of Chinese visitors to the US has grown from nearly 400,000 in 2007 to more than 1 million in 2010, according to the China Tourism Academy.
Chinese companies benefit by providing travel services, but the numbers are also good for destination countries. Tourists and students bring in hard cash and in sluggish economic times, cash is king.
The United States is the most frequently cited "dream destination" for Chinese citizens, followed by France, according to research by the US Travel Association. However, more Chinese visited second-place France.
"A big reason has been the US visa system," the Travel Association's Siming Cao told China Daily in an email. "If you look at countries that have made their visa process simpler for Chinese citizens, they capture a larger share of outbound travel than the US."
As evidence, she said that 38 percent of Chinese international travelers visited Western Europe in 2010, compared with 13 percent for the US.
Dun Jidong, a marketing manager with Ctrip, a leading online travel agency, said, "Many Chinese are scared away by the difficulty in filling out application forms printed in English and the inconvenience of personal interviews required for every applicant.
"Often an applicant has to stand in a line for nearly a day for the interview," Dun said. "More troublesome is that before the interview, the applicant has to wait a long, long time."
So many visa applications were submitted during the first half of 2010 and 2011 that applicants had to wait two to three months on average for the chance to interview, Dun said. That eliminated many travel plans with a short lead time.
The delay was compounded by the annual crush of applications for student visas from July through September.
For those who went through the whole process, many who answered a reporter's questions outside the US Embassy found it exhausting. One of them was Zhou Yan, a student from Shandong Normal University in East China.
She said she and her classmates had traveled more than 400 kilometers from Shandong to Beijing for an interview. "We waited for three hours, but the actual interview only took three minutes."
What's changing
The problem with the US visa system has been its capacity to handle the Chinese demand. US Ambassador Gary Locke has said China is the source of about 11 percent of all visa applications to the US, second only to Mexico.
The latest figures from the US State Department show that consular officers handled nearly 260,000 visa applications in China, an increase of 48 percent, in the last three months of 2011. Handling them better and quicker is the goal of policy changes.
Charles Bennett, minister-counselor for consular affairs at the US Embassy, said earlier that 50 more American staff members would be deployed to the embassy and US consulates in China this year. More interview facilities will be built, and the embassy is considering streamlining the application process, allowing applicants to have their interviews as quickly as two days after applying.
In addition, some qualified travelers who previously were granted visas might be able to renew their visas without another interview, saving both time and money. The US hopes it will encourage these travelers to visit the US again, and meanwhile free resources to interview 100,000 more first-time Chinese travelers.
Bennett said the new policy will not loosen standards - "national security remains this administration's highest priority," the embassy's website says - but that the US expects to approve visas for nearly 90 percent of Chinese applicants this year.
Li of China International Travel said the company estimates an additional 80,000 to 100,000 tourist visas could be handled in Beijing and Shanghai combined this year.
What others do
Industry observers noted that the new US visa policy follows a global trend of adopting "Chinese-friendly" policies to boost tourism.
Japan, for instance, has relaxed its visa policy to Chinese tourists three times since 2009. Now, an applicant who lives in a big city and has a credit card can get a visa to Japan.
New Zealand last year reduced the number of documents it requires and raised the number of multiple-entry visas issued.
Spanish Tourism Minister Miguel Sebastian said at a business forum in Barcelona in July that Spain planned to ease visa requirements for Chinese nationals, encourage more direct flights between the two countries and open more tourist offices in China.
Germany, which like the US requires personal interviews of applicants, plans to simplify and speed its visa issuance this year, according to a Reuters report in December. However, the embassy told China Daily recently that no changes are expected soon.
Industry observers noted that all the new measures of developed countries stopped short of lowering the standards for issuing visas to mainland Chinese. However, policy changes do indicate that other countries are realizing the importance of the Chinese market, said Jiang Yiyi, director of China Tourism Academy's International Tourism Development Institute.
"We find that once a country relaxes its visa policy for Chinese tourists, it usually produces immediate results in the growth of visitor numbers."
After Japan eased its visa policy, she said, mainland tourists to Japan exceeded 1 million that year and reached 1.41 million the next.
The World Tourism Organization said global tourism grew 4.4 percent last year, but China's international travel increased 20 percent. Nearly 70 million mainlanders visited overseas destinations including Hong Kong, Macao and Taiwan; about 20 million visited other foreign destinations.
Big spenders welcome
According to the US Department of Commerce, Chinese tourists on average spend more than $6,000 per trip, compared with about $4,000 spent by all international travelers in the country.
More than 800,000 Chinese visitors contributed $5 billion to the US economy in 2010. Based on that, and a projected 135 percent increase in visitors, Chinese travelers would contribute $11.75 billion to the US economy in 2016.
A Beijinger who joined a tour group last year did his part. The man, who gave his name only as Qi, said every member of his group spent at least 20,000 yuan ($3,167) on top-brand clothes, shoes and bags. (Food and lodging were extra.)
Qi said he is thrifty and doesn't buy expensive clothes at home, but regretted having curbed his spending on the trip. "I wished I had bought more, because clothes and shoes of some brands are indeed cheaper in the US than in Beijing."
Yang Wen, 37, a human resources manager in Shanghai, said she plans to apply next month to visit the US in May. She said she spends hundreds of thousands of yuan on luxury goods every year while traveling abroad. People like her can help boost the gross domestic product in the US, she said.
Michele Rothstein, spokeswoman for Simon Property Group's premium outlets division, said in an email that the group is "pleased with the growth (in) visitors from China who have embraced our outlet centers as must-visit destinations. ... We look forward to initiatives that enable more people to come to the US."
Write the reporters at xindingding@chinadaily.com.cn, zhengyangpeng@chinadaily.com.cn and shiyingying@chinadaily.com.cn