German firms seeking growth in China
Updated: 2012-02-06 09:31
By Shi Jing (China Daily)
| | | | | | | | | | | |
| --- | --- | --- | --- | --- | --- | --- | --- | --- | --- | --- |
|   | | Comments() | | Print | | Mail | | Large Medium  Small | 分享按钮 | 0 |
Eastern expansion is the name of the game for firms as crisis hits Europe
SHANGHAI - Back in his home town of Essen in North Rhine Westphalia, Erik Breslein was made to feel like a folk hero, telling stories of optimism, growth and expansion in a distant land that were in sharp contrast to the tales of gloom and doom which have prevailed in a continent troubled by sovereign debt problems, credit crisis and soaring unemployment.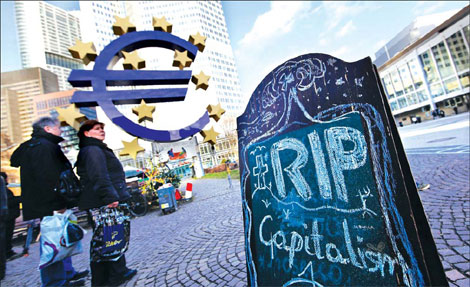 The euro symbol outside the headquarters of the European Central Bank. The debt crisis has seen many European companies shift their focus on expansion to China. [Photo/China Daily]
Of course, Breslein was well aware of the problems that beset Europe. But stationed in Taicang, a small town in Jiangsu province that is near metropolitan Shanghai, he and many other German executives in this enclave of German industrial enterprises have been too busy ramping up production at their respective facilities to pay too much attention. "We are thinking of nothing but expanding and expanding," recalled Breslein, general manager of Zollner Electronic (Taicang) Co Ltd.
His problem was to find the most cost-effective source of funding to build new factories and buy the latest machinery. Funding is becoming even more acute in 2012 when European banks, their traditional source, are tightening credit to boost their capital bases in preparation for the worsening of the sovereign debt crisis, which is threatening to spread to the larger European economies. Meanwhile, Breslein, and his German colleagues in Taicang are under tremendous pressure from their respective head offices to further expand their production facilities to pick up the slack of those in the developed economies.
In Taicang, staff at the 160-plus German companies in the city's Economic Development Area are working three shifts a day to meet orders.
"We have seen a 75 percent growth this year at the Taicang plant, though not as much as the 225 percent growth rate from 2009 to 2010," said Breslein. He predicts that the growth rate in 2012 will slow down further but will still reach 45 percent because of an expected increase in demand in the Chinese market.
"The Zollner group made 800 million euros ($1 billion)in sales turnover last year," said Breslein. "The Taicang plant will make around 16 to 16.5 million euros by the end of this year. At the moment, it's not much of the group's turnover, but we have to prepare our sales for the future because business ties between the United States and China are becoming tighter," said Breslein.
To better meet the growing market need, the company has already leased a new tract of land in Taicang for the construction of a new plant in 2012. The project, Breslein said, has obtained the green light from the company's managing board.
"It will be about 8,000 to 9,000 square meters (sq m) in the first phase and will be completed in the next two to three years. In the second phase, we plan another extension of 8,000 sq m to be completed in the next four to five years," he said.
Although it remains confidential as to the exact amount to be invested in the new plant, it has been decided that the company will move in by the end of this year, according to the schedule.
The plant will also increase its headcount from the current 208 workers to 249 this year to meet the production capacity.
Having been in China for about eight years, it is Breslein's habit to read through the Chinese central government's five-year plans to seek any latent business opportunities.
Although it is widely speculated that China's economic growth will slow this year, Breslein is still optimistic about future growth, as his home country braces for zero growth this year.
"Maybe it'll cool down by 1 to 2 percentage points. But if you look at China's 12th Five-Year Plan (2011-2015) and the inputs they are making in railway and automotive hybrid technology - they are now playing a much bigger role. The healthcare market is also flourishing. These are all branches that need electronics," he said.
"We've already delivered directly to China Railway for the high-speed train line. Look in Shanghai: It has all the new subway lines. Suzhou also gets a new line. You have many projects here the government is forcing to work into this five-year plan," he added.
The rampant debt crisis in Europe has not exerted any impact on this Zandt-headquartered company because they have been balancing their output, attaching equal importance to the three divisions of the automotive industry, the semi-conductor industry and office data communications, said Breslein.
"Automotive takes up about 20 percent of the whole sales turnover and the other two major ones take up not more than 30 percent respectively. So when one branch gets weak, you still have the others," he said.
Keeping the overall output balanced within the company is also the aim of Foehl China Co Ltd, a manufacturer of zinc diecasting based in South Germany's Rudersberg, according to Simon Xue, business development manager of the company.
Balancing output
Although Foehl has reached a total sales of 130 million yuan ($20.6 million) this year, the managing board has already noticed that they have too much revenue coming from the automotive industry, about 71 percent, while the rest is contributed by consumer electronics, home appliances and building hardware.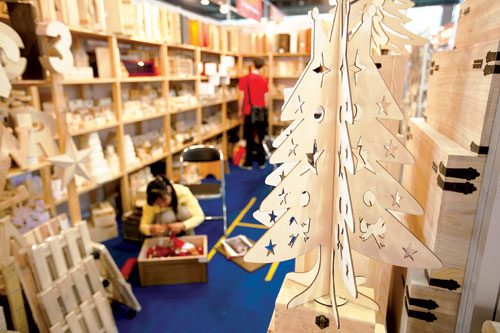 Holiday decoration products displayed at the 110th China Import and Export Fair in Guangzhou, Guangdong province. Some German companies are complaining their exports from the Chinese mainland have been affected by the rising value of the yuan. [Photo/China Daily]
"It cannot be labeled unhealthy that a 70 percent contribution comes from automotives. But it is already a big enough number to attract attention. Ideally, it is expected that each division of our business can make a 20 percent contribution. In this way, we can be sure that the company will be able to weather any impact from its internal balance," said Xue.
Although not in balance at present, Foehl Taicang is still doing a good job.
"We started manufacturing in Taicang in October 2006 and reached annual sales of 3 million yuan by the end of 2007. Last year we achieved our 130 million yuan target and are sure to achieve 15 percent growth this year," said Xue.
"We used to have only three clients, all of which were brought by our parent company in Germany. But by the end of 2010, the Taicang plant already had 67 clients of our own, 90 percent of which are multinational companies in China," he said.
As the company only moved to its current site in October 2010, its focus in 2012 will be investment in machinery. The board of directors in Germany has already approved a 10 million yuan investment in two diecasting machines and four pieces of auxiliary equipment, all of which will be put into use in the first quarter this year, according to Xue.
Foehl has also not felt any direct effects from the debt crisis.
"It is quite different from the financial crisis in 2008. For the parent company in Germany, about 63 percent of the business is done within the country and the rest in Northern and Eastern Europe. The major countries affected by the crisis, namely Italy, Spain and Greece, are not our target countries," said Xue.
Targeting expansion
Expansion seems to be the theme for most German companies in Taicang. Waelzholz New Material (Taicang) Co, Ltd, a manufacturer of cold-rolled alloy steel strip, is also building an 8,000 sq m plant next year on top of the current facility of 7,000 sq m.
"We have invested about 140 million yuan in the new plant. It is estimated that we will check and accept the plant in January 2013 and it will be fully operational by the end of 2013. So the major task for us next year will be building up the plant," said Qiu Shengtao, deputy general manager of Waelzholz Taicang.
"The headcount will also grow by then. Currently we have altogether 85 employees. The number will grow to 200 when construction of the plant is completed," said Qiu.
Both Foehl and Waelzholz believe the automotive industry in China will be profitable in the next few years despite the impact of the debt crisis.
"It is estimated that the production volume of Volkswagen China will increase from about 2 million units to close to 3 million by the end of 2015. As we are closely related to the automotive industry, Volkswagen's increase will indicate the increase in the earlier-stage material supply, which is definitely profitable for us," said Qiu.
Xue from Foehl also said his company would benefit from growth in the automotive industry in the next five years.
Challenges remain
But the expansion almost everywhere does not necessarily mean the German companies are not encountering any difficulties.
"For the entire group, there is not much impact from the debt crisis. But so far for the Taicang plant the main influence we can see is the exchange rate," said Martin Neumann, general manager of Rampf (Taicang) Co Ltd, a small manufacturer of reactive resin systems which employs a staff of 35 at present and a capacity of 700 tons of mineral casting for machine beds in 2011.
"The euro is weakening and the Chinese yuan is gaining in value. We have 1 to 8.3 now while 5 years ago it was 1 to 11. This has a huge impact in two ways: one is when we import raw materials from Europe. It's getting cheap, we can save on this. But on the other side, when we produce something here and sell to Western customers, they will compare our prices with Europe. That means we are less competitive," said Neumann.
"On the other hand, if we compare our products from the Taicang plant with the price from our plant in Germany, then there is almost no difference any more. Before we had a 20 to 25 percent better price here. And now the exchange rate has changed by about 20 percent, so all the difference is gone," he said.
But still, Rampf is expanding too, in a slightly different way from the previous companies.
"At present, a small part of the 3,200 sq m factory is rented out. It was leased out in 2008 when the crisis erupted and our development of the plan was not as quick as we thought. We saw we had too much space and we could rent some space out for other purposes. But this will end after spring this year. So we will have all the building back by then. We will need it in June this year," said Neumann.
"At the moment we work on one shift but we will need two shifts this year. As a backup, we also have a third shift, or maybe two-and-a-half shifts will be possible," he added.
With the expansion of production volumes, demand for talented people is also growing. However, the managing directors unanimously said that locating the right people for the company's growth is now the most challenging problem in Taicang.
"A big headache is the education system in China. China's growth rate is around 8 to 10 percent per year. But the universities are behind the growth rate. You don't have enough places to train the students at the universities. Inadequate supply of qualified students is a really severe problem that we have been facing since the beginning of last year," said Breslein from Zollner.
"There is a vocational training center in Taicang. We thought of recruiting employees from this center once. But they still require training by our company after graduation and they usually ask for more in terms of payment, which makes hiring in Taicang a little bit difficult," said Qiu from Waelzholz.
Labor shortage
To combat the labor shortage starting from the end of 2010, Foehl is determined to increase automation at his plant this year.
"It has already been decided to complete the automation of all major production processes. All the investment has been included in the budget. And it is not included in the 10 million machinery investment mentioned above," said Xue.
The Germans are far-sighted. They have long seen the potential of the Chinese market. Take Foehl Taicang for example: The board of directors approved without any hesitation their 7.5 million euro capital increase plan in 2008, when the financial crisis was at its most severe.
"Our two parent companies, one based in Zurich and the other in Stuttgart, are only a 40-minute flight from each other. But ever since the Taicang plant was established, they have flown all the way to Taicang every time they hold a board meeting. They have focused totally on the Chinese market," said Xue.
The local administration also aims high. Da Wenmin, director of the Economic Development Bureau of Taicang Economic Development Area, said they are working to introduce more small- and medium-sized German companies to the area to bring the total number up to 200 by the end of this year.