NE Tiger's Zhang is a man with a dream
Updated: 2011-09-01 13:55
By Wang Wen (China Daily)
| | | | | | | | | | | |
| --- | --- | --- | --- | --- | --- | --- | --- | --- | --- | --- |
|   | | Comments() | | Print | | Mail | | Large Medium  Small | 分享按钮 | 0 |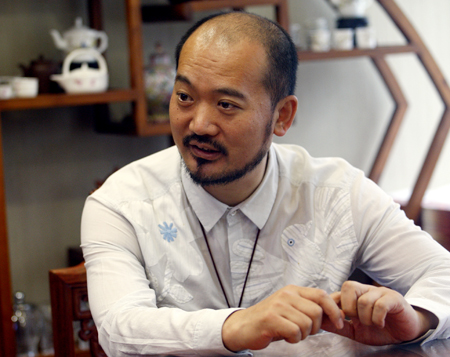 Zhang Zhifeng,chairman of NE Tiger Fashion Co.[Photo / China Daily]
Self-made giant in clothing industry says his business will one day focus solely on luxury brand. Wang Wen reports.
BEIJING - Zhang Zhifeng said his company will one day give up original design manufacturing (ODM), but he still needs the business now to support his dream of building a luxury brand.
"I have a dream to develop my brand into one of the top international luxury brands, though it currently accounts only for 10 percent of my business," said Zhang, chairman of NE Tiger Fashion Co, a luxury dress manufacturer in Shanghai.
Zhang, 47, made his fortune through ODM in the 10 years after he set up his own enterprise in 1982 in Mudanjiang, Heilongjiang province. His property expanded from a small tailor shop to a factory with 300 employees, and the price of his products surged from 0.5 yuan (8 cents) for a pair of bell-bottom pants to thousands of yuan for a fur coat since the border trade between China and Russia took off in 1991.
Trade between the province and Russia reached $1.89 billion in 1993, according to the Heilongjiang Provincial Bureau of Statistics, with an annual increase of 41.8 percent from 1988 to 1993.
Chinese businessmen converged on Russia selling consumer goods, and Zhang's products, mainly fur coats, found a warm welcome there.
"Early on, before Western luxury goods were available in China, my products were exported," Zhang said proudly.
However, when he went abroad to compete with the Western manufactures, Zhang noticed that his products would have fetched five times his price in America and seven times in Europe, yet he only rarely saw profit.
"I understood later that it is the value of their brands," Zhang said.
His enterprise, which once had eight factories and 8,000 workers, puts an NE Tiger tag - his brand, registered in 1992 - on fur coats, wedding dresses and high-end Chinese dresses, which Zhang named Hua Fu (luxury dress in Chinese).
Zhang's first fur coat shop was opened in Harbin, Heilongjiang province, in 1997, and his brand-building career reached a milestone that year, when he decided to focus on high-end custom-made clothing.
"What I want is not merely a brand, but an excellent brand, a top luxury brand," Zhang told China Daily.
The additional value of such a brand is an enticement, but the process of building it up is costly.
Ten years passed before Zhang saw profit from the business, and even now, NE Tiger still depends on ODM, which bring orders of 100,000 clothing articles annually.
But Zhang gives most of his attention to Hua Fu, which could help him achieve his luxury brand dream.
"My investment in Hua Fu is not a concern, and I just try to make each piece an artwork," he said.
He demands that each Hua Fu is handmade, no matter how long it takes, and he favors using old Chinese tailoring techniques in them. But he has to go to remote villages around the country several times every year to find people still practicing the tailoring techniques, such as Qiang embroidery and knot tying.
Zhang, who doesn't like to talk about financial matters, said he doesn't care about the cost of Hua Fu, because through it, he is advancing Chinese culture, which is more important than the business.
But he said that the business of Hua Fu has grown by more than 50 percent annually since 2008.
"Sometimes, a company does not care about profit, though profit might come to it," he said.
Zhang was in the National Image Film in January because of his work in developing traditional techniques. After the film was broadcast in the West, his company achieved its annual business growth target in the first half year, he said.
NE Tiger is becoming a representative of local luxury brands. It has organized the opening show of the China International Fashion Week in Beijing for 10 consecutive years.
"We already are on the road to luxury," Zhang said.
Yang Qingshan, guest researcher on luxury goods and services at the University of International Business and Economics in Beijing, said luxury goods have six characteristics, including uniqueness, exclusivity, luxurious look and the high quality.
Zhang said his products have all six of the characteristics, except for the high price. A Hua Fu costs at least 200,000 yuan ($3,128) with no fixed limit, and can be customized with a selection of materials, techniques and accessories.
The company can also supply dresses priced less than 200,000 yuan, if consumers do not care whether they are custom made.
"Our price is much cheaper than Western luxury goods," Zhang said.
A custom dress from Chanel could cost at least $40,000, and it is usual for Western luxury brands to price a limited-edition dress at up to $1 million. Zhang attributes the price differences to the differences in market sizes.
"China has such a huge market, and we can afford to make only a small profit from each piece," he said.
He said that his company makes about 600 Hua Fu annually and the demand is up to 1,000.
The World Luxury Association forecast that China will be the No 1 luxury consumer in 2012 - luxury consumption reached $10.7 billion on the Chinese mainland in 2009.
According to the Hurun Wealth Report 2010, China has 11 female billionaires, the most in the world.
"Wealthy women are our customers, of course," Zhang said, and he classifies them as the newly rich, because most made their own fortunes.
Zhang said the newly rich, including enterprise owners, artists and TV stars, are turning to low-key luxury goods from famous Western luxury brands, and they are NE Tiger's main customers.
Both Chinese actress Zhang Ziyi and American actress Andie MacDowell are NE Tiger customers.
Aside from the newly rich, NE Tiger also has middle class and younger generation customers, Zhang said. "The younger generation can't afford overly expensive dresses now, but if we can train them, they will become the backbone of our buyers in the future." Zhang said this is why he also offers dresses at several thousand yuan.
Then there is the special group of consumers Zhang calls the blue bloods, the traditional luxury consumers come from the upper class. Most of the blue bloods come from overseas and have the accumulated wealth of generations. "They are certainly luxury consumers, because they never care about the cost," Zhang said.
Royal families from the Middle East and Europe fly to China for the dresses and wait for about a month for them to be custom made.
Zhang, who never hires stars to promote his brand, declined to give details about his blue-blood customers other than saying that Joachim Holger Waldemar Christian, prince of Denmark, ordered a Hua Fu for his princess in 2007, after seeing an NE Tiger fashion show.
"It's a globalized business, and we can sell our products all over the world, even if we have just eight shops in China, and none in the West," Zhang said.
He draws this conclusion from the business of his flagship shop at New Oriental Plaza in Beijing. Zhang said he can tell from customers' credit cards that 80 percent of them in the shop are from other countries.
"Regardless of where they come from, they have to visit our shops in person so we can cut the dress to fit their figures," Zhang said. "Then, they go back to wait for their dresses."
Denis Morisset, executive director of MBA program in international luxury brand management at ESSEC Business School in France, said despite the large domestic market, Chinese brands still need to meet global consumers' demands to develop their products into luxury goods.
The international market is always Zhang's target and his strategy has been global ever since he decided to build his own clothing brand from ODM in 1992. At that time, he established five design and marketing centers, in Hong Kong, Russia, America, France and Italy.
The design centers are still operating, with 57 designers, 10 of whom are foreigners. The NE Tiger look comes from the Chinese elements, but Zhang does not reject the foreign designers' ideas.
"They are more imaginative about Chinese factors because they do not understand more," Zhang said.
He does not bar Western techniques from his Hua Fu, either. Swarovski's crystal was used together with Yun brocade on a red Hua Fu, and the Western slim cut is also used. But the amateur scholar of Chinese studies believes the country has a longer luxury tradition than the West, and he put great effort into learning about it.
Lu Xiao, assistant professor of marketing in Fudan University said that local companies need to be rooted in Chinese culture if they want to produce luxury goods.
The theme of NE Tiger's 2011 fashion show is Tiangan Dizhi (Heavenly Stems and Earthly Branches), which is more commonly understood by foreigners as the traditional system of using animals to represent years.
Various nearly forgotten traditional techniques are used in Hua Fu, such as Yun brocade and reeling silk, each with a long history.
Yun brocade, the first traditional fabric Zhang used in his products, was used exclusively in the imperial palace in China's past. The fabric can be traced back to the Southern Dynasty (AD 420-589), and it is said in China that one inch of Yun brocade can be worth one inch of gold - about 497.66 grams.
Zhang also brings some common folk techniques to his dresses, such as paper cutting and knot tying, to form their unique patterns.
Q+A | Zhang Zhifeng
Q: How do you spend your weekend after your busy week?
A: I like to stay with my family when I rest, because I have little free time.
What are your hobbies?
Horseback riding and golf.
What saying do you like the most and why?
"Doing what I say and saying what I do."
Honesty is so important for a businessman, especially when you do business with foreigners. If you are frank and loyal, they will feel comfortable making a big deal with you.
Who is your icon?
I believe it would have to do with Chinese philosophy, and I used to study philosophy at Fudan University. Confucius, Lao Zi - the founder of Taoism - Zhuang Zi and Shakyamuni Buddha are all my icons.
What book are you reading now?
The Tripitaka. It is the collection of the teachings of the Buddha over 45 years in the Pali language, and it consists of the Sutta, conventional teaching; the Vinaya, disciplinary code; and the Abhidhamma, moral psychology. It has been translated into several languages.
What kind of "green" lifestyle do you have?
Probably mainly in transportation, such as taking public transportation. The subway is a better choice.
Name places in China that impress you most and you have not visited but want to explore.
None.
What's the best way to break the ice with a Chinese businessman you've met for the first time?
I never do business with a total stranger. Maybe China is still an acquaintance society and we trust people we know.
Three words to describe your impression of Chinese businessmen?
Polite, loyal, upright.
What kind of experience has shaped your thoughts the most?
Beijing hosted the 2008 Olympic Games. Our country developed a lot and has the capability to host such an international organization.