Hurdles in the race for the future
Updated: 2011-08-15 09:38
By Xin Zhiming and David Bartram (China Daily)
| | | | | | | | | | | |
| --- | --- | --- | --- | --- | --- | --- | --- | --- | --- | --- |
|   | | Comments() | | Print | | Mail | | Large Medium  Small | 分享按钮 | 0 |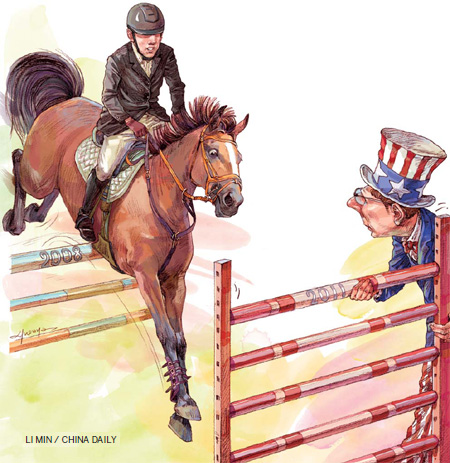 New US and European debt crises mean that China will have to restructure
BEIJING/LONDON - China is watching nervously as the United States and Europe scramble to deal with their debt crises, fully conscious that events on both sides of the Atlantic play an important role in the country's own economic prospects.
There is little doubt that there are concerns in China about potential knock-on effects of the problems, but exactly how and to what extent Beijing will be affected by the fallout from Washington and Brussels is still being gauged.
"The crisis is not as serious as the 2008 global financial crisis, but it's enough to put China on her guard," said Zhang Xiaojing, senior economist at the Institute of Economics affiliated to the Chinese Academy of Social Sciences (CASS).
Recent financial events would have a multifaceted impact on the country, but what Beijing needs most is not to churn out panic-driven short-term solutions. Instead the country must accelerate economic restructuring to make the economy less vulnerable to external shocks, analysts say.
"The biggest impact on China would come from weaker global growth caused by financial market turmoil," said Wang Tao, China economic research head of UBS Securities.
If the current uncertainties continue to evolve, the US economic recovery is set to slow, which, coupled with the weak eurozone economy, will affect Chinese exports.
"The most obvious way China will be affected is trade," said Keyu Jin, assistant professor of economics at the London School of Economics. "If the US and Europe are in a debt crisis, this will affect consumer spending and demand for exports from China, which will slow down Chinese exports."
China at a crossroads
It is quite clear that China is still highly dependent on the shape of the American and European economies, said Gustaaf Geeraerts, director of the Brussels Institute of Contemporary China Studies. "It is true that they want to change their dependence on exports and to stimulate domestic consumption, but, of course, this will take time. It is not something you can do with a click of the fingers."
Jonathan Story, emeritus professor of international political economy at INSEAD business school, added: "There are worries in China because they know their huge foreign trade reserves will shrink when the dollar falls. Rebalancing the Chinese economy is an extremely long and arduous task, and I think in spite of the crisis, systems are going to continue to run and trade surpluses will keep on piling up."
There is near unanimity that Beijing will have to stimulate domestic consumption as a buffer against the vagaries of the global economic landscape but domestic issues are complicated by rising inflation and the increasing cost of importing strategic resources. While the 2008 stimulus package succeeded in maintaining a high growth rate, inflation has since soared, hitting a three-year high of 6.5 percent in July - mainly driven by food prices.
"I don't think recent events will accelerate China's move from exports to consumption. That takes long-term structural force and isn't so easily affected by policy changes," said Jin at the London School of Economics
"In some respects this crisis today is not the same as the crisis in 2008. A lot of it is also psychological and we don't know how long it will last. China is paying much more heed today to outside global events than it did during the last crisis. This time they are keeping a very close watch on global events and, despite the fact that in the past month there was a record high inflation rate, they didn't come out and increase the interest rate, despite a lot of speculation they would."
John Ross, visiting professor at Antai College of Economics and Management at Shanghai Jiao Tong University, said: "China will have to rely even more on expanding domestic demand through stimulating its own consumption and investment."
Given that the Republicans in the US Congress will not accept a new fiscal stimulus for expanding the budget deficit, any support for the US economy can only be delivered through action by the Federal Reserve such as quantitative easing (QE), he said.
"It increases the chances of QE3 and the dollar is likely to decline, which will negatively affect the real value of China's foreign exchange reserves."
That poses the risk of additional speculative capital flows to China. QE3, which would drive down the dollar in tandem with the weak US economy, would see more international capital flowing into developing countries, including China, said Zhang of CASS. "We must closely monitor the capital flows because such liquidity would bring a series of problems, such as rising inflation."
The Chinese fundamentals remain sound, however, and analysts say the overall economy will not suffer much.
"The stock markets may have overreacted," said Zhang. China's main stock index, the Shanghai Composite Index, dropped by nearly 7 percent in intraday trading in the two days following the S&P downgrade of the US debt rating, but has since posted gains.
"The (Chinese) economy continues to show considerable resilience as both year-on-year and month-on-month data show respectable expansions," according to a report by IHS Global Insight.
Fixed-asset investment, for example, increased by 25.4 percent year-on-year in the first seven months while retail sales grew by 17.2 percent year-on-year in July. All indicators remained stable.
Restructuring ahead
China's trade surplus narrowed by 8.7 percent year-on-year to $76.21 billion in the first seven months, but exports remained strong, expanding by 23.4 percent year-on-year, according to customs data.
"The good news is that China has become less reliant on export growth than before the 2008 global financial crisis and the property market is not in a deep downturn as it was back in 2008," said Wang of UBS. "China will be affected by what is going on globally but we are not expecting a hard landing."
She said China still has a trump card to play: the easing of macroeconomic policy, although the room for more stimulus measures would be limited. "China has already increased its leverage massively in the past three years by investing in infrastructure, and there is less scope to do so now."
China initiated a $586 billion economic stimulus package in late 2008 to steer the economy through the fallout of the global financial crisis then. But it has also left legacies such as excess liquidity, which is believed to have contributed to the current problem of rising inflation and potential debt problems, especially those facing local governments.
"China's stimulus package has kept unemployment under control but also had serious costs," said Derek Scissors, research fellow for economics at the Heritage Foundation's Asian Studies Center. "Another stimulus package risks a true financial crash."
The solution would be for China to transform its growth pattern so that it becomes less dependent on exports, said Zhang of CASS. "If the 2008 crisis prompted China to clearly embark on the road of growth-pattern transformation, the current crisis is making it accelerate the move."
"I do think world events influence a possible impetus to join forces with the regional economies and promote more regional integration," said Jin at the London School of Economics.
"One thing people don't realize is that China's largest trade volume is still intraregional. They trade more within Asia than with Europe and the US, so even though the debt crisis in those countries might affect China, it could also be compensated for by stimulating trade with emerging markets. One thing that might happen is a promotion toward regional integration to shield the region from these crises."
Some see opportunity in the crises.
"The US debt crisis will continue to slow its economy and will further depress demand for Chinese exports," said Dale Jorgenson, Samuel W. Morris University Professor at Harvard University. "If the world goes into another recession (as a result of the current crisis), China should use the opportunity to dampen the level of economic activity and shift from exports toward domestic output. This should help to reduce inflationary pressures in China."
Scissors agreed. "China should see this danger as an opportunity. It is time to depend less on foreign markets and government-directed spending and more on China's own consumers. The proper response to a global downturn is consumption-oriented restructuring."
Kelly Chung Dawson and Ariel Tung contributed to this story.