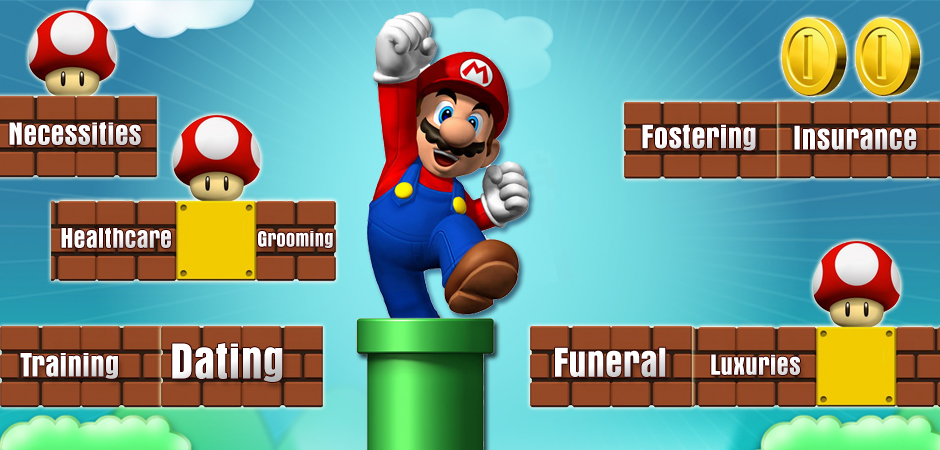 Pet industry set to grow leaps and bounds
Biscuits with beef provide energy, while adding wheat and bananas into the concoction helps in lose the extra pounds and keeping a healthy balance. These tips are important for you, if you are a dog owner who loves your pet unconditionally.
Rapid economic development has greatly reshaped Chinese lifestyles, and raising a pet has become a new popular hobby for many Chinese.
One out of 15 Chinese people owns a pet, with an average pet costing 500 yuan ($74) per month, according to Zheng Qiwei, a pet business owner.
He started his pet business in 1997. Today he is the general manager of Shenzhen Libangda Industry Co Ltd, which produces its own pet product under the Choi Inn brand. [Full story]
Sunshine makes business hot for pet boutiques
Business warmed up for the capital's pet beauticians with the arrival of the summer sun as owners rushed to sign up for treatments to make their furry friends look their best during the hot season.

Liu Yi was among those who stampeded for the animal spas, paying 1,000 yuan to have the ears of his two-year-old teddy dog dyed pink.
The 20-something businessman said the attention it brought him was well worth the effort.
"I want to make my dog pretty. Whenever I walk her on the street, passers-by stop and say wow when they see her, especially children," he said. [Full story]

Pet cemetery popular in China
It is obvious that with the number of pets rising in China, the death of them also becomes a problem for many.
As affection for their pets would not pass when their beloved animals pass away, some pet owners in China are turning to an animal cemetery to memorialize their late companions.
Not every one can afford a costly funeral service at a cemetery, and most pet owners choose to bury their passed pets by themselves -- most of time near their homes.
But experts say bacteria on pets can be harmful to humans and the environment, as well, and pet corpses with unusual death should be treated with great care.
Now Hainan Small Animal Protection Association seems to offer a solution. [Full story]
A dog named Baobao gets treated for mites at Doctors Beck and Stone Pet Health Care Center in Beijing. [China Daily]
Vets team up for pet clinic
Anthony Beck, British CEO of Dorctors Beck and Stone Pet Health Care Center in Beijing, is sitting in his UK flat more than 8,000 km away consulting with Shi Yingbin - also known as Dr Stone - about how to treat a puppy that has been hit by a car.
Using a Web cam, the two discuss treatment options while the injured patient and its distraught owner wait in Beijing's only Western-style veterinary practice. Xiao Sui - Small Sunflower - and owner Estrella Deng are both whimpering as assistants tend to the puppy's injuries. [
Full Story
] 
Foster care for pets during Festival hot in BJ
A new wave of pet fostering has hit the capital as many owners, who are non-Beijing residents, return to their hometown to enjoy the traditional Chinese Spring Festival with families.
The Beijing International Pets Park, which is located at Songzhuang, Tongzhou District of Beijing, is one of the popular pet fostering sites for people who are about to leave their animals while they are away for the holidays. [
Full story
] 
Many pay thousands of yuan for pet dog's training
To train a pet dog, some owners pay 1,500 yuan ($226) for a month-long elementary training program, while others prefer a 3,000 yuan intermediate-level training program, Tsingtao's City Journal reported on Dec 12.
"Teaching a dog to stop barking, sit and stand are among the elementary skills taught. Dogs can be trained to go to the toilet on their own and not bother their owner and neighbors at night," Jin told the paper. He runs a dog training camp in Tsingtao, in China's eastern Shandong province.
After the month-long elementary training period, a dog can also get down and stay still, follow the owner and get in or out of its house, Jin said.
Jin offers various levels of dog training programs: 1,500 yuan for elementary, 3,000 yuan for intermediate, 5,000 yuan for advanced. There are some special training charges, which vary according to the program. The most pricy service – guide dog training – costs 60,000 yuan.
Pet dating agencies on the rise
Finding the "one and only" is no easy for people now, as for pets, that's the same.Thus dating service for pets gains rising popularity among pet owners in China.

Such services, often offered by pet hospitals or pet grooming stores, may cost from just a few hundred yuan up to tens of thousands yuan, depending on the lineage of different dogs.
A woman reads her dog's insurance policies. [Photo / Xinhua]
Insurance may cover 2,000 yuan for dog bites
Pet's liability insurance would pay a maximum compensation of 2,000 yuan ($302) each accident and 10,000 yuan each year, Wuhan Morning Paper reported on July 20, 2010.
The policy costs 1,020 yuan for an annual premium, but that will not compensate the part exceeding the 2,000-yuan cap, one Dubon Insurance representative said.
Earlier media reports said that the pet's liability insurance would cost less than 100 yuan but offer a compensation of more than 10,000 yuan. But the Dubon Insurance staffer said the 100-yuan policy is no longer available, and now the policy is an appendix to household property insurance.
It's trendy to dye pet dogs, such as this poodle, this summer. [Photo / China Daily]
Pets live in the lap of luxury
Imported food, a weekly visit to the spa, a professional haircut and massages are a just part of the pampered life - or lifestyle - of Cecilia Ma's two dogs living in luxury in Beijing.
"They are not pets, but family members," said Ma, who moved here from Hong Kong four years ago.
Ma said she spends about 2,000 yuan on pet food and vitamins.
Gordon, a 4-year-old cocker spaniel, and Jinzai, a 2-year-old schnauzer, are "very smart and lovely", she said. "The love I give them couldn't be valued by money. Good services make sure that they are healthy and happy." [Full story]