Editor's note: China's enterprises eye global expansion via mergers and acquisitions (M&As) in 2010 as the country's economic power increases. Although most big deals took place in industries such as mineral resources, energy and power and were conducted by the State-owned companies, some private companies also made inroads in overseas foray. Here we list some impressive investments by Chinese companies in 2010.
Click for more "top 10" topics
1. Sinopec pays $7b for Repsol's Brazil unit
2. CNOOC buys Bridas stake for $3.1b
3. PetroChina, Shell to acquire Arrow for $3.1b
4. Geely's Volvo buy
5. Chalco invests $1.35b in Rio's Simandou iron ore project
6. Huaneng buys into InterGen
7. PCM acquires GM's parts-supplier unit
8. Ansteel invests in US mill
9. Bright Food inks NZ deal
10.ICBC acquires majority stake in the Thai lender
1. Sinopec pays $7b for Repsol's Brazil unit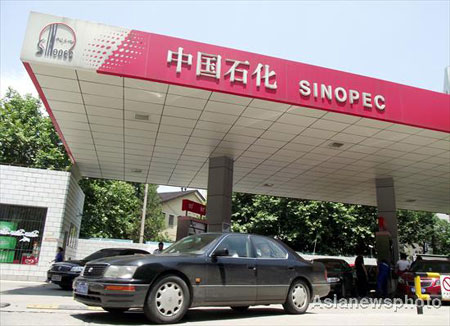 A car leaves a Sinopec gas station in Nanjing, Jiangsu province on July 14, 2010. [Photo/Asianewsphoto] 
China Petrochemical Corp, also known as Sinopec, which is China's second-largest energy company, agreed to pay $7.1 billion for a 40 percent stake in Madrid-based Repsol YPF SA's Brazilian unit in October, which has reserves in the same area as the biggest oil discovery in the Americas this century.
China National Offshore Oil Company Limited (CNOOC Ltd), China's biggest offshore oil explorer, inked a $3.1 billion deal with Argentina-based Bridas Energy Holdings (BEH) to buy a 50 percent stake in the BEH subsidiary Bridas Corporation in May.
Aluminum Corp of China Ltd (Chalco), the nation's largest metal producer, in July agreed to pay $1.35 billion for a stake in Rio Tinto Group's Simandou iron ore project in Guinea, making its first investment in the commodity.
The agreement followed an initial accord on the project with Chinalco, Chalco's State-owned parent, in March. Chalco will acquire a 44.65 percent stake by funding development over the next two to three years.
China Huaneng Group, the nation's largest electricity producer, will pay $1.23 billion to acquire GMR Infrastructure's 50 percent stake in Massachusetts-based power utility InterGen.
This is Huaneng's biggest overseas acquisition in more than two years. The Chinese company will gain access to 12 power plants in the United Kingdom, Netherlands, Mexico, Australia and the Philippines after the transaction.
Pacific Century Motors (PCM), a joint venture between Tempo Group and the Beijing municipal government, completed the acquisition of General Motors' steering-parts manufacturing unit in December, setting a record for the biggest single overseas purchase in China's automobile parts industry.
The takeover of Nexteer Automotive involves its global steering and half-shaft operations, including 22 manufacturing facilities, six engineering facilities and 14 customer support centers, which have 8,300 employees in North and South America, Europe and Asia.
Anshan Iron & Steel Group inked an agreement in September with Steel Development Company (SDC) to cooperate on construction of a steel rebar plant in the United States. Total investment in the Mississippi steel rebar project was $168 million, with the Chinese steel maker taking a 14 percent stake.

9. Bright Food inks NZ deal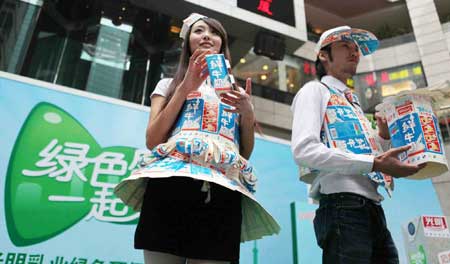 Models show off clothes made of recycled materials from Shanghai Bright Dairy & Food Co Ltd products. [Photo/China Daily] 
Shanghai-based Bright Dairy & Food Co agreed in July to pay $58 million for a 51 percent controlling stake in New Zealand's Synlait Milk Ltd, marking its first overseas investment.
The investment capital would be used to pay Synlait Milk's bank loans and establish a new factory in New Zealand after the deal is completed. The deal is the first overseas purchase in China's dairy industry. [Full story]

10. ICBC acquires majority stake in Thai lender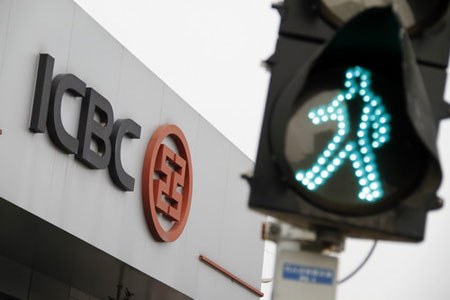 The Industrial and Commercial Bank of China's branch in Nanjing, capital of Jiangsu province. [Photo/China Daily] 
Industrial & Commercial Bank of China Ltd (ICBC), the world's largest bank by market value, acquired a 97.24 percent stake in Thailand's ACL Bank with about $545 million in April.
The Chinese lender would get 1.55 billion of ACL's ordinary shares and 282, 048 ACL preferred shares after the transaction. The deal gives ICBC a foothold in Thailand and may also help bolster ties between Thailand and China. [Full story]
Related readings:


 Lender awaits decision on Thai bank offer


 ICBC to bid for controlling stake in Thailand's ACL Bank


 Banks going global, but big risks remain


 ICBC starts expansion into insurance sector