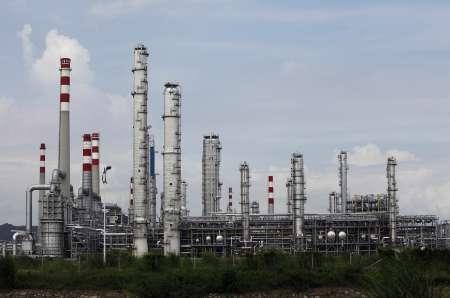 China National Offshore Oil Corporation's (CNOOC) oil refinery is seen in Huizhou, China's southern Guangdong province July 28, 2009. [Agencies] 
CNOOC Ltd, China's biggest offshore oil explorer, agreed to buy a 50 percent stake in Argentine producer Bridas Corp for $3.1 billion to meet demand in the world's fastest-growing major economy.
Bridas, controlled by Argentine businessman Carlos Bulgheroni, owns a 40 percent stake in Pan American Energy LLC, the country's largest crude oil exporter, and also has oil and gas assets in Chile and Bolivia, CNOOC said yesterday in a statement to Hong Kong's stock exchange. BP Plc, Europe's largest oil company, owns the remainder of Pan American.
China's oil and gas companies spent at least $13 billion on acquisitions since 2008 as the nation scours the globe for resources. The offer values Bridas's proven reserves around $10 a barrel, about half of what BP Plc paid Devon Energy Corp last week for assets in Brazil, the Gulf of Mexico and Azerbaijan, according to Sanford C Bernstein & Co analyst Neil Beveridge.
"This seems like a relatively attractive valuation and the acquisition is entirely in keeping with the Chinese government's policy of increasing oil reserves," Beveridge said by telephone from Hong Kong today. "It raises CNOOC's reserves by about 12 percent and also gives it an entry into Latin America."
China is the world's second-biggest energy consumer, after the US, and CNOOC estimates the Bridas investment will add 318 million barrels of reserves and also boost its average daily production by 46,000 barrels. Devon's assets may add 40,000 barrels a day for BP starting next year, based on current production, with "huge potential" for exploration, BP spokesman David Nicholas said March 11.
CNOOC reserves
According to Cnooc's website, the Beijing-based company had total proven reserves of about 2.52 billion barrels of oil equivalent at the end of 2008, and average daily production was 530,728 barrels of oil equivalent.
Related readings:


 CNPC sees China oil output up 1-2% in 2010


 CNOOC to boost oil output to 290m barrels in 2010


 CNOOC doubling crude oil output


 Crude oil imports jump 33%
China's economic growth will accelerate to 8.8 percent this year, four times faster than that of the US, according to the United Nations. That's stoking Chinese demand for fuel in autos and industry.
"Given China's increasing reliance on imported oil and the nation's robust demand in fuel driven by the rapid growth in automobile sales, it is a priority for the Chinese government and its companies to secure resources globally," Wang Aochao, head of China energy research at UOB-Kay Hian in Hong Kong, said in an interview.
Pan American Energy was formed in September 1997 through the merger of the Argentine units of Bridas and Amoco Corp, acquired by BP in August 1998. Pan American is the country's second-biggest producer of crude after Repsol YPF SA. CNOOC was interested in buying a minority stake in the Argentine YPF unit of Repsol, three people familiar with the talks said in July.
'Good beachhead'
Bridas represents "a very good beachhead for us to enter Latin America," CNOOC President Yang Hua said in the statement. The company made "good progress" since stepping up efforts in December 2008 to boost cooperation with foreign countries and companies, Chairman Fu Chengyu said in an interview yesterday.
In August 2005, CNOOC dropped an $18.5 billion offer for Unocal Corp, the largest overseas acquisition attempted by a Chinese company at the time, after meeting resistance from US lawmakers on grounds the takeover would threaten national security. The company was subsequently bought by Chevron Corp.