Shanghai company expects to sew up Australian takeover deal this year
BEIJING: Bright Food Group, the food conglomerate owned by the Shanghai municipal government, will sweeten its offer to buy Australian sugar giant CSR and hopes to complete the deal at least by the end of the year, a top company official told China Daily on Wednesday.
"Bright Food is in touch with CSR and it is likely that the deal could be finalized this year, as our offer is still attractive," said Ge Junjie, deputy general manager of Bright Food Group.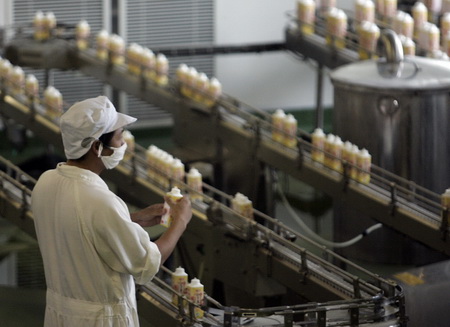 A Bright Food employee works at a dairy packaging line. The Shanghai-based company expects to finalize a sugar and new energy business acquisition with the Australian sugar giant CSR by the end of this year. [CFP]
Ge is also a member of the Chinese People's Political Consultative Conference.
CSR had received a non-binding $1.4 billion buyout proposal from Bright Food in January for its sugar and renewable energy business.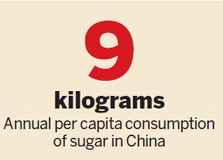 In early February, CSR rejected the offer and said it would go ahead with the planned demerger of the sugar business, Sucrogen.
CSR said it would not initiate talks with Bright until the Chinese firm showed "high degree of certainty over the value, timing and likelihood" of a deal being completed. Western analysts said Bright Food would need to raise its offer by up to 20 percent to get approval from the CSR board.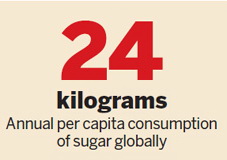 "We are still interested in the deal. The value of the deal is not a major issue, and it's negotiable," said Ge, without revealing any numbers of the sweetened offer.
The official said the Chinese company would send a team of officials later this month to Australia for consultations with CSR. The CSR board is expected to vote on the demerger this month.
"This is the most critical period. Bright Food will submit a formal proposal to CSR and expect to initiate negotiations," he said.
Related readings:


 Bright Food still interested in Aussie sugar deal


 Bright Food eyes Australian sugar deal


 No sweet solution to sugar shortage


 Pricey white sugar gets interest from Indian buyers
CSR held a 60 percent share in the 4.2 million ton Australian sugar market. The acquisition of CSR would help Bright Food become the third largest sugar producer in the world and add additional sales worth 10 billion yuan every year.
Bright Food reported sales of 76 billion yuan ($11.13 billion) in 2009. The sugar business recorded the fastest growth with an output of nearly 140,000 tons in 2009.
"The CSR deal, if successful, will be a major breakthrough for Bright Food in enhancing its sugar business," Ge said.
Bright Food is also considering acquisitions of sugar business in other regions like South America and New Zealand, he said.
In August 2009, Bright Food spent 900 million yuan to buy a 60 percent stake in Yinmore Sugar, a Yunnan-based sugar producer.