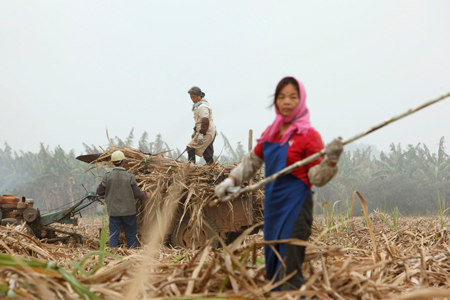 Farmers harvest sugarcane at a State-owned farm near Nanning, Guangxi Zhuang autonomous region. Sugar has been trading 73.12 percent higher through last year. [Agencies] 
China may sell its sugar reserves to cool the market and avert a sugar shortage after poor weather damaged sugarcane fields and jacked prices up to a three-year high.
A Customs report released yesterday forecast China, the world's second-largest sugar consumer after India, will see a sugar deficit of more than 2 million tons this year as drought and cold weather reduced sugarcane production in Southern China's growing regions.
Supply shortfalls and rising sugar prices may force food producers to raise retail prices and use substitute sweeteners. This could, according to a report, increase the possibility of food safety problems.
Domestic sugar prices rose 73.12 percent through the end of 2009 to 5,242 yuan a ton. White sugar for September 2010 delivery closed up 4.01 percent at 5,756 yuan a ton yesterday on the Zhengzhou Commodity Exchange.
Instead of increasing imports to meet domestic demand, the nation is more likely to release reserves into the market to calm market speculation, analysts said.
"Domestically-produced sugar is still cheaper than imports," said Zhu Zhiping, an analyst at China International Futures Co Ltd.
"The price will extend gains since the deficit is expected and speculators are betting on sugar."
Customs statistics show China imported 1.06 million tons of sugar in 2009, up 36.5 percent from the previous year. But sugar imports have dropped off sharply since August 2009 as global sugar prices rose.
Beginning in December 2009, the government has already staged three sugar auctions, putting 860,000 tons of State sugar reserves on the market. The latest sale involved 360,000 tons of sugar sold at auction in January.
Some industry insiders have said national reserves are not large enough to ease the shortfall.
Lan Qingyuan, manager of Yongkai Sugar Co Ltd in Guangxi Zhuang autonomous region, said a sharp production drop from the nation's top two sugar producing bases - Guangxi Zhuang autonomous region and Yunnan province - would create a shortage of more than 3 million tons, as forecast by the Guangxi Bulk Sugar Exchange Center.
Guangxi's output may fall by about 700,000 tons in 2010, about 10 percent lower than last year, said Lan, while Yunnan's production may drop by 630,000 tons, down 28.25 percent from 2008.
"The nation will not sell out all of its 210-ton reserves," said Lan.
Importing more of the sweet stuff won't solve the problem.
"The global sugar shortage is even worse, so it's difficult to import sugar at a reasonable price."
Related readings:


 Pricey white sugar gets interest from Indian buyers


 Bright Food eyes Australian sugar deal


 Summit: Chinese sugar supply-and-demand gap to be 0.7 m tons


 Sugar, corn drop despite state purchase
In major sugarcane growing areas the wholesale price of sugar is now around 4,800 yuan a ton, more than 20 percent cheaper than imported sugar.
China is the world's third largest sugar producer after Brazil and India. Guangxi produced 7.63 million tons of sugar in 2009, making up 60 percent of the nation's total output.
According to a report by sugar trader Sucres & Denrees, global sugar supplies will lag behind demand for a second year in 2010 as excessive rains in Brazil and weak monsoons in India curbed yields in both nations.