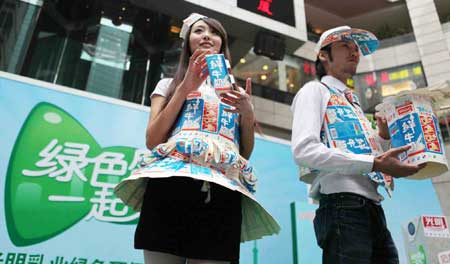 Models show off clothes made of recycled materials from Shanghai Bright Dairy & Food Co Ltd products. [Yang Yi / China Daily] 
Beijing - Shanghai-based Bright Dairy & Food Co has agreed to pay $58 million for a 51 percent controlling stake in New Zealand's Synlait Milk Ltd, its first overseas investment.
Synlait Milk, which used to be a stockholder of New Zealand's largest dairy corporation, Fonterra Co-operative Group, now has become one of New Zealand's five key milk processors since it split off from Fonterra in 2008.
According to Bright Dairy's announcement to the Shanghai stock exchange on Monday, investment capital will be used to pay Synlait Milk's bank loans and establish a new factory in New Zealand after the deal is completed.
"The international reputation and consumer recognition of New Zealand's dairy products are beneficial for our company to enter the premium infant formula market," Bright Dairy declared in a statement on Monday.
Synlait Milk is planning a public listing within three to five years and Bright Dairy retained the right to buy more shares, according to the statement.
Huang Wei, a food and beverage analyst with China Jianyin Investment Securities Co Ltd, said: "The international cooperation will definitely help improve Bright Dairy's brand image in the premium market."
The partnership with Synlait is the first overseas venture by Bright Dairy, but not for its parent company, Bright Food Group, which bid for Australian sugar giant CSR Ltd earlier this year, but was beaten by Wilmar International, the world's largest palm oil trader. The Singapore-listed company won the bid at $1.48 billion, $80 million higher than Bright Food's offer.
Related readings:


 Bright Food fails in bid for Sydney-based CSR


 Bright plans sweet offer to Aussie CSR

 Bright Food eyes Australian sugar deal


 Bright Food gets nod to increase stake in listed unit
However, Bright Food's spokesperson Chen Chunshan said that the company is still keen on exploring overseas acquisitions despite its failed bid for CSR Ltd, as they believe there will be a lot more attractive deals ahead thanks to the financial crisis.
Bright Dairy is not the only company that is focusing on China's premium infant formula market. Hangzhou Wahaha Group Co Ltd, one of China's largest beverage manufacturers, announced earlier this year that it planned to launch a premium infant formula, branded as "Aidisheng" - Chinese pronunciation for "Edison" - and hopes to produce some 100,000 tons per year, according to Zong Qinghou, chairman of Wahaha Group.
At present, global players such as Dumex, Mead Johnson, Wyeth, and Abbott are market leaders in China's premium infant formula sales, accounting for more than 85 percent of China's premium milk powder market.