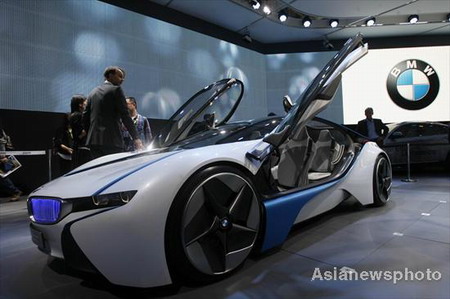 The BMW Vision concept car displayed at the 2010 Beijing Auto Show. [Photo / Asianewsphoto]
Germany's luxury carmaker BMW expects its China car sales to rise more than 30 percent this year, boosted by the country's robust economic growth, its China chief said on Thursday.
BMW China expects sales volume to hit 120,000 units in 2010, up from about 90,000 units in 2009.
The world's largest premium carmaker sold more than 75,000 BMW and Mini brand cars in China in the first half of 2010.
"We are well on the way to reach our target. We are quite happy and confident," said Christoph Stark, president & CEO, BMW Group Region China.
"None of us had expected the market to run so fast this year," Stark told a small group of reporters in Shanghai as the carmaker launched a new 5-series sedan in the country.
BMW, which partners with the state parent of Brilliance China Automotive, currently operates a plant in the northeastern Chinese city of Shenyang, making BMW 3-series and 5-series sedans.
Chinese automakers sold a record 13.6 million vehicles in 2009, helping the country to surpass the United States as the world's biggest auto market.
China's total car sales will likely grow 10 percent to 15 million units in 2010, according to an estimate by the China Association of Automobile Manufacturers.
One of the world's fastest-growing major economies, China is currently BMW's third-largest market.
Related readings:


 BMW: 2010 to set record


 BMW: China sales now surpass UK


 Brilliance China sees H1 profit as BMW sales rise


 BMW breaks ground for second facility
Stark, a former Daimler Chrysler AG executive, said the gap between China and the United States, the company's second-biggest market, has been narrowing since the global financial crisis two years ago.
"In the US and Europe, due to the financial crisis the markets dropped whereas China kept going. This year the premium market (in China) almost explodes. These very different trends led to the very fast rising of China in the ranking," he said.
In terms of sales volume, the gap between China and the United States is expected to stand at between 100,000 and 150,000 cars by the end of 2010, he said.
Commenting on recent labour disputes between management and workers in China, Stark said he was not surprised by the development, calling it "part of a maturing process" for the country and that he was happy with the condition of BMW's China operations.
"Our principle is clear. We try to cooperate with whoever is working with us, for us. You can only do business successfully if you always have a win-win situation. Stability and cooperation is part of the win-win," he said.