Beijing - Soaring sales by German luxury automaker BMW in the first six months this year enabled China to surpassed the UK as its third-largest market worldwide, the company said in a recent statement.
The first-half tally of BMW-branded cars doubled to 71,000 units, more than half of which were from the 3 Series and 5 Series models.
It also sold 4,500 units of its Mini brand, which along with luxury legend Rolls-Royce, is now owned by the Bavarian auto icon.
The locally made BMW 5 Series sedan sold 17,100 units, while both imported and locally built 3 Series cars moved 18,500 units - a 130 percent surge over a year ago and the fastest in the upscale midsize segment.
Its joint venture with Brilliance Auto currently has a production capacity of 44,000 units a year, so soaring demand far outstripped BMW's local production.
Last week the German business daily Financial Times Deutschland quoted the company's personnel director Harald Krueger as saying the automaker plans to ship 10,000 of its 3 Series models from Germany to meet the booming demand in China.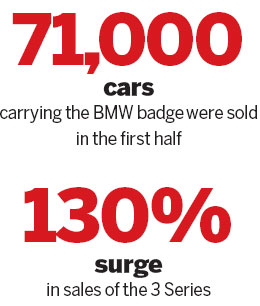 In an interview with China Daily in June, President and CEO of BMW Group Region China Christoph Stark also said the company can barely meet current demand.
Last month BMW broke ground on a new facility scheduled to begin operation in 2012 at its venture with Brilliance Auto in the northeastern city Shenyang.
The world's largest premium carmaker expects to boost annual capacity in China to 300,000 units over the long term.
The company's flagship 7 Series sedan registered stunning growth of 127 percent in first-half sales to about 10,800 units, while the compact BMW 1 Series almost quadrupled sales to 4,200 units.
Combined sales of the X5 and X6 sports activity coupes totaled 11,000 units over the period.
Its Mini brand has already exceeding its 2009 full-year sales of 4,368 units.
If sales in Hong Kong, Taiwan and Macao are added, 81,679 BMW and Mini brand automobiles were purchased in the six months to June, a 99 percent year-on-year surge.
Related readings:


 Brilliance China sees H1 profit as BMW sales rise


 BMW hybrids gear up for greener future


 Readers vote BMW designs top in 3 segments


 BMW breaks ground for second facility

With such strong performance in overseas markets, especially in China, the company raised 2010 global sales forecast to 1.4 million units, up from the previous expectation of 1.3 million.
The company said its fastest growth in China came in the western region. Last week it established a training center and a western regional office in Chengdu, capital of Sichuan province.
For the first five months this year luxury car market in west China increased by 65 percent as BMW sales rocketed more than 100 percent, according to the company.
The carmaker vowed to broaden its western region dealer network, expanding from the 20 outlets currently.