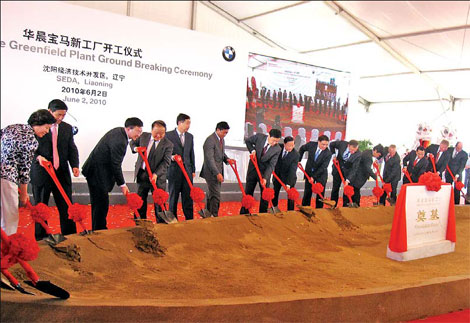 Government officials and executives from BMW Brilliance mark the beginning of construction on the new 100,000-unit plant. Photo by Wang Danna / China Daily
Shenyang - Shenyang-based BMW Brilliance laid the foundation stone for its new plant in the capital of Liaoning province yesterday, beginning a second phase in the joint venture between BMW Group and Brilliance China Automotive Holdings Ltd.
"Together with our highly appreciated partner Brilliance, we will put a second plant into operation - here in Tiexi district," Norbert Reithofer, chairman of the board of management of BMW AG, said at the ground breaking ceremony.
"The total investment amounts to 5 billion yuan (560 million euros). Brilliance and BMW Group will share the cost equally."
"China has become the third-largest market for BMW Group worldwide," Reithofer noted. "The ceremony today marks a new chapter in BMW's Chinese success story."
"BMW will remain committed to China, bringing new attractive products to Chinese customers that confirm our long-term engagement in this dynamic country."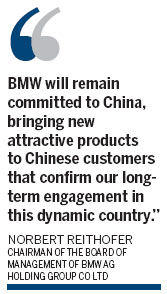 The new Tiexi plant is expected to ramp up production in 2012 with a capacity of 100,000 cars annually.
Depending on market development, "we even see long-term potential for producing 300,000 units a year" when combined with output from the joint venture's existing plant in Dadong district of Shenyang, said Reithofer.
The new facility in the Shenyang Economic and Technological Development Area has good transport links and energy supplies, he noted. It is also logistically well positioned with BMW Brilliance's existing Dadong plant.
The expansion will be supported by further localized R&D and set new standards for an open working climate, according to company plans.
"Our goal is to guarantee the best possible interaction between production and administration within the new plant," said Reithofer.
BMW's policy of clean production in all its plants worldwide will also be brought to Tiexi. The new facility will be among the environmentally friendly auto plants worldwide," the chairman added.
"Our new plant in Tiexi will definitely be state of the art in sustainability," he said.
The facility will have pressing, welding, painting, and assembly workshops along with an engine plant, a large-scale logistic center and an expansive car-testing center.
As the company begins building a new facility, Reithofer noted "milestones achieved at our Dadong plant over the past two years", which include reducing energy consumed and carbon emissions by more than 12 percent.
The existing facility also found ways to reduce the water used in production processes by 40 percent and waste byproducts by more than 60 percent.
In 2002, before it joined with Brilliance, BMW sold mere 6,700 cars on the Chinese mainland. The nation then ranked 17th in sales within the BMW Group.
In 2009, more than 90,000 BMW cars were sold on the mainland, which has now risen to number 3 on the premium carmaker's list of global markets.
The 50-50 joint venture invested 4.5 billion yuan in its first facility and nationwide operations.
In the first four months of this year "BMW sales in China increased by more than 100 percent over the same period last year", Reithofer said. "In 2010, we aim to deliver around 120,000 cars."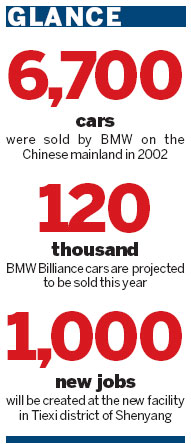 In November last year both partners in the joint venture signed an agreement affirming their shareholders' strategic commitment to further development of BMW Brilliance, marking the next phase of its development.
"As the Chinese partner, we are committed to providing full support to our joint venture," said Brilliance Chairman Qi Yumin. "Today BMW Brilliance enters a brand-new development phase. We look forward to the start of production in 2012 and we are fully confident of a greater success in the future."
Since its founding seven years ago, BMW Brilliance has produced more than 170,000 units of the BMW 3 Series and 5 Series.
"In the past seven years, BMW Brillance has developed and established cooperation relationship with over 200 suppliers of spare parts, which boosts the development of the country's auto industry," said Wu Xiaoan, chairman of BMW Brillance.
The joint venture has already hired 600 new employees who are currently undergoing training for their new assignments, Reithofer said. The expansion in Shenyang is expected to create about 1,000 new jobs by 2012.
Chen Zhenggao, governor of Liaoning province, expressed full support on behalf of the local government, which Reithofer noted is important to success in the auto industry.
"Without the support of the province we certainly would not have been able to implement our plans so quickly," Reithofer said.
"The development of BMW Brilliance will help boost the revitalization of Shenyang, one of the old industrial bases in northeast China," said Chen Haibo, mayor of Shenyang.
Others attending yesterday's ground breaking ceremony included Wang Min, secretary of the CPC Liaoning Provincial Committee, Chen Zhenggao, governor of Liaoning province, Zeng Wei, secretary of the CPC Shenyang Municipal Committee, Zhang Xiaoyu, executive vice-president of China Machinery Industry Federation, Dong Yang, vice-president of China Association of Automobile Manufacturers and numerous board members of both Brilliance Auto and BMW Group.
China Daily
(China Daily 06/03/2010 page13)