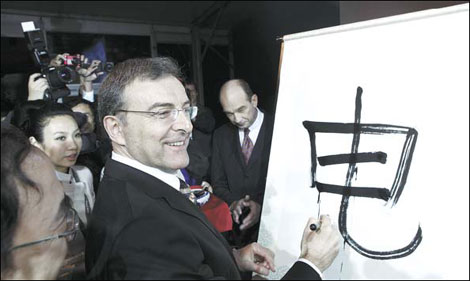 Norbert Reithofer, chairman of the board of management of BMW Group writes dian - or electric in Chinese - to promote the company's electric car. [China Daily] 
Blistering first-quarter pace paves the way
BEIJING: After blistering pace in the first quarter German luxury carmaker BMW Group expects sales to surge by 30 percent for the full year.
Norbert Reithofer, chairman of the board of management of the carmaker, announced during the ongoing Beijing auto show that the group aims to deliver around 120,000 cars in China this year, up from 90,536 units in 2009.
The target is up from its previous goal of selling 100,000 vehicles in China for 2010.
BMW, together with its local partner Brilliance China Auto, are investing 560 million euros ($749 million) to build a new plant and aggressively expand production in China, Reithofer said.
The two now have an existing joint venture plant with an annual production capacity of 41,000 units in northeastern city of Shenyang. Construction of the new factory will kick off in June.
"We will be increasing our production capacity in China to 100,000 vehicles a year from 2012 on," he said. "Over the long term, we anticipate the two plants will have combined potential for as many as 300,000 vehicles a year - depending on market trends. We may realistically need this potential over the long term."
In the first quarter of this year, BMW more than doubled its China sales over the same period of 2009 to 34,179 vehicles.
"We think ahead - for our customers and for the environment. That is what continues to make the BMW Group so successful here in China," he said, "Our Chinese customers appreciate innovation. At the same time they want to enjoy sheer driving pleasure - whether they are behind the steering wheel or sitting as a passenger in the rear. Fulfilling our customers' individual desires and needs is what motivates us."
New technologies
"We remain committed to China. We bring new technologies to our Chinese customers. We confirm our long-term engagement in this dynamic country."
Klaus Draeger, member of the group's management board for development, said the all-new long-wheelbase BMW 5 Series sedan, making its world premiere at the Beijing auto show, will be launched in China beginning fall 2010.
The new 5 Series sedan has a new chassis and more powerful and fuel-efficient engines using BMW's EffecientDynamics technologies along with equipment options previously available only in the upper luxury segment, Draeger said.
The new long-wheelbase 5 Series sedan, only available in China, will be produced at BMW's joint venture with Brilliance in Shenyang. The joint venture is now building BMW's 3 and 5 Series sedans.
Electric car
Draeger said the carmaker will also introduce the BMW Concept ActiveE, a fully electric car based on the BMW 1 Series Coupe, in China next year as a test fleet.
The four-seat Concept ActiveE is powered by a synchronous electric motor. Its newly developed lithium-ion batteries offer a range of about 100 miles in everyday use.
Before the introduction of the ActiveE, BMW will deliver about 50 Mini E electric cars in China as a field trial, Dreger said. The group said in a press release that it will also develop and build a new-energy vehicles for the Chinese market in collaboration with Brilliance while expanding its research and development efforts in Shenyang.
BMW's archrivals Audi and Mercedes-Benz announced earlier that they will move a respective 200,000 cars and 100,000 units this year in China.
Audi, the current leader in China's premium car market due to its early local production, sold 50,840 cars in the country, up 77 percent from a year ago. Mercedes-Benz's sales in China surged by 112 percent to 23,610 units in the period.