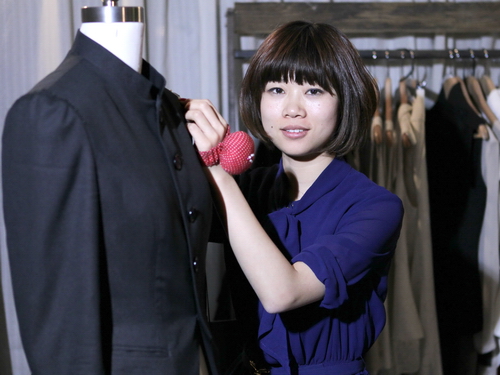 Vega Wang adjusts her latest design on a mannikin. [WANG JING / CHINA DAILY]
Q: As a dress designer, what do you think is the most important thing when people select clothes?
A: Because clothes are decoration for a body, they should match your identity, age and character. I saw many young people in China wear popular designs or brands, with conflicting personalities. The most popular designs are not necessary the most suitable for everyone.
I am not a big fan of famous labels. Most of my favorite clothes were made by my own hands, or picked up at a secondhand market. I like to wear second-hand clothes because they are very comfortable, so it's a shame we don't have many secondhand clothing markets in China.
Q: Why did you open your studio in Beijing?
Related readings:


 Global fashion show


 Spring fashion banks
on the mid-90s


 Young lady with designs on the fashion world


 Fashion week woes put spotlight on Milan's influence

A: There are many chances for success here in Beijing. I spent a few months creating designs in Xiamen after I returned from the UK, but when I came to the capital for a photo shoot, my designs were really appreciated here.
I moved all my stuff from Xiamen, rented a studio and started my own label within only one month. Once I make a decision, I move very quickly.
Q: Do you like life in the capital?
A: Beijing is a great place and there are many good opportunities for the younger generations. However, the city is sometimes very noisy and always busy, which can disrupt my concentration.