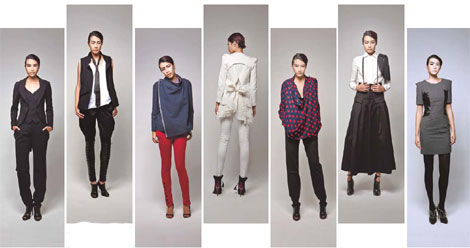 Designer Vega Wang's work released in Beijing last year. [Provided to China Daily]
A UK-trained dress designer is starting to turn heads in the city, reports Zhao Yanrong
Hidden 11 floors above the crowds of Jianwai SOHO on a Friday night sits a composed figure, sketching page after page of beautifully clothed bodies while soft music trickles between pieces of antique furniture.
Vega Wang, 24, and a graduate from Central Saint Martins College of Art and Design in London (CSM), is working on design drafts for her 2010 clothing line.
After studying and living abroad for seven years, Wang came to Beijing to open a studio, following a short stay in the coastal city of Xiamen, in Fujian province.
Wang, the daughter of an affluent family, is proud of her success and notes that her clothing deals not only with fashion but also with character.
Q: How do you feel about your time spent studying abroad?
A: It was a valuable experience in my life. I have my family to thank for supporting me during the past seven years. Studying overseas was really challenging.
Related readings:


 Global fashion show

 Spring fashion banks
on the mid-90s


 Young lady with designs on the fashion world


 Fashion week woes put spotlight on Milan's influence

The entrance examination for CSM is really hard. I could have taken the preparatory courses and then enrolled on the undergraduate courses without taking any exams, but I didn't know how to sew. Instead, I got into another school and passed the CSM entrance exam one year later.
Q: What was the highlight of the course?
A: I was the only Chinese student to get a chance to show designs at the graduation show.
My piece was a dress with a shining picture of a deep-sea fish. It was a complicated project, because the picture moves on the dress with the music. The materials were very expensive and the whole thing cost almost 400,000 yuan.