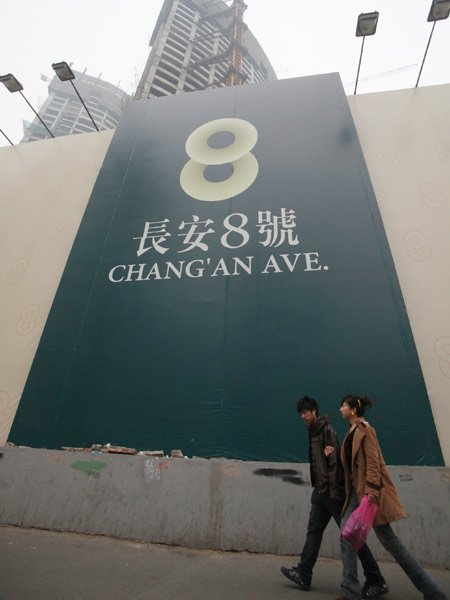 Cancellation of the American Airlines' flight is expected to delay the carrier's efforts to seize the upper hand in the world's fastest-growing commercial aviation market.[Agencies]
And tougher property rules are on the horizon, Shen Jingting reports
Uncertainty about Beijing's luxury residential market has led speculators to step aside and caused some overseas owners to be anxious about their property assets.
"A slew of regulations have been issued since the beginning of this year," said Qin Xiaomei, chief researcher with the property firm Jones Lang LaSalle Beijing. "They have had a significant and broad influence, not only on mid- to low-end houses, but also on high-end properties."
And luxury houses may face even tougher regulations, compared with average commercial apartments, Qin said. In addition to requirements for increased down payments for a second home and suspended loans for third homes, property taxes that both target the transaction and hold period are expected to soon be levied on luxury apartments.
"Many speculators who usually target high-end houses are now facing more pressure," Qin said. "The down payment has risen, so they must shoulder higher capital costs. In addition, the incessant jump in housing prices has been impossible so far, which also increases investment risks."
In the first quarter, transaction prices of luxury apartments and luxury villas increased by 8.9 percent to 37,676 yuan per sq m and by 16.4 percent to 39,638 yuan per sq m, respectively, according to statistics from Jones Lang LaSalle Beijing.
While average transaction prices continued their rapid rise, luxury apartment transaction volumes fell in the first quarter compared to the fourth quarter of 2009, demonstrating declining demand.
"I will not buy a luxury apartment in Beijing, since the price has already reached such a high level," said Claire Cao, supply network inventory analyst with an international oil company.
"Besides, as an outsider, I am confused about the new policies and don't know what will happen next."
Instead, she has bought an apartment in London while working in Beijing and is living in a rented apartment in Guomao paid for by her employer.
Qiu Luan, a commentator with Hong Kong-based China Review News, wrote an article stating: "People from Hong Kong, Macao and Taiwan are very anxious about their property assets in Beijing because the central government's policies are really harsh this time."
Qiu said Hong Kong residents purchased about 23,300 houses in the Chinese mainland in 2009, a sharp increase over the previous year. The total investment reached 22.4 billion yuan, up 85 percent on the previous year.
About 20 percent of buyers in Chang'an Avenue No 8, a luxury property with an average unit sales price of 80,000 yuan per sq m, came from Hong Kong and Macao, according to officials at China Aoyuan Property Group Limited, one of the shareholders in Chang'an Avenue No 8.
"We will not lower our price at the moment, since we have a good location and quality. The apartments available are also limited," said Ren Jing, a saleswoman at Chang'an Avenue No 8.
But while developers from the top five luxury apartment projects in Beijing are all denying they will cut prices or offer discounts in the near future, industry experts predict there will be a slackening of demand for luxury property.
Daniel Yin, former managing director of CB Richard Ellis Group's Beijing branch, said a price cut of up to 10 percent can be expected in the next three months.
"More than 70 percent of those houses are purchased by non-Beijing-registered residents. If specific rules such as a local tax record, or a certificate of residence release in the capital is needed, high-end property projects will suffer a big blow," he said.
"There may be a difference between reporting price and real transaction price, but a reduction is certain if polices continue to tighten."
Related readings:


 Growth expected in luxury home market


 Few people buying into luxury home expo


 Sept luxury home sales nearly triple


 Luxury home sales growth robust in Q2
The definition of a luxury apartment in Beijing has changed greatly recently, said Qin at Lang LaSalle Beijing.
In 2008, when the average price of a commercial apartment in Beijing was 9,000 yuan per sq m, the price level for luxury apartments was only 15,000 yuan per sq m, according to Lang LaSalle Beijing.
Now, apartments selling for more than 26,000 yuan per sq m can be called high-end apartments, Qin said.
Villas may be less affected by the tightening regulations than apartments because of preferential policies, such as low down payment ratios.
"What's more, the municipal government has banned offering land for villa building since 2004, which makes the resource more valuable," Qin said.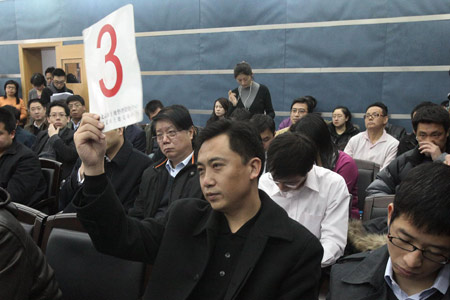 A representative from Sino-Ocean bids for a piece of land in Wangjing, Chaoyang district on March 15. Many analysts have been complaining the government was pushing the land prices higher, which in turn pushed up property prices. [Agencies]