Luxury apartment sales in China's big cities saw significant growth in the second quarter, mainly due to increased purchases by overseas residents.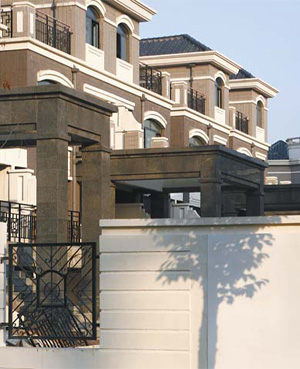 A high-end residential community in Xi'an. Home purchases by overseas residents are on the increase this year. [CFP]
Statistics put out by the Beijing Real Estate Transaction website showed that among the capital's top 30 most expensive residential projects, 993 units were sold in the second quarter, up 100 percent year-on-year and more than 50 percent quarter-on-quarter.
"The loosening up of the policy canceling limitations on home purchases by foreigners and compatriots from Hong Kong and Macao in Beijing contributed largely to rising sales in the high-end residential sector," said Will Chen, deputy-managing director of CBRE.
In 2005, overseas residents' home purchases accounted for 27 percent of total sales, said Chen. But the figure dropped to 3-4 percent in the past two years after the government restrictions took effect in 2006.
A Hong Kong resident, who just bought a 6.8-million-yuan ($995,100) apartment in the capital's CBD area, told China Daily that he wanted to take advantage of low rates before inflationary trends started gaining ground.
"You have to find a place to invest your money, and high-end property is the best investment choice to maintain the value of assets," said the buyer, who declined to be named.
"Compared to Hong Kong, property prices in Beijing are comparatively lower. And, given China's fast-growing economy, the current prices still have appreciation potential," he added.
Sales of luxury apartments in Shanghai were heating up as well.
The UWIN property transaction system showed that the sales of apartments with unit price higher than 30,000 yuan per sq m in Shanghai touched a three-year record. Around 546,476 sq m of floor space area were sold in the first half, compared to 438,532 sq m for the whole of 2008.
Among buyers of Yanlord Town, a project with a sale price of 37,000 yuan per sq m, 38 percent were Shanghai residents, 42 percent buyers from other provinces and the rest overseas buyers, said Yao Wei, vice-general manager of Singapore-based Yanlord Land Group Ltd.
Related coverage:
Housing in China
Related readings:


 Real estate sales up, prices soar


 Reality of the real estate market is really bitter


 Luxury apartments push up housing prices in Shanghai


 Realty sector needs reality check
"Compared to last year, the proportion of home purchases by Hong Kong, Macao and Taiwan residents saw an obvious increase in the past few months," Yao was quoted by China Business News as saying.
A survey by Centaline China's research center showed that residents from Hong Kong, Macao and Taiwan were turning into increasingly important players in Shanghai's high-end residential market.
Since March, the number of buyers from these three regions saw an increase of 25 percent, 40 percent and 43 percent month-on-month, approaching the record highs of 2007.
The trend was similar in Guangzhou, a city neighboring Hong Kong.
The marketing chief of Summer Palace Golf Chateau, a project with a price tag of 40,000 yuan per sq m, said sales had jumped by more than 200 percent in the first six months of this year, and around 40 percent of the buyers were Hong Kong and Macao residents, with purchases for investment and self-use being roughly equal.