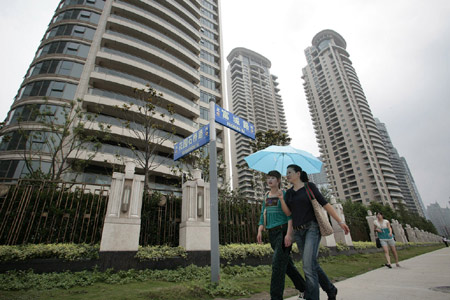 Pedestrians walk past an apartment complex in Shanghai. Millions of potential home buyers have adopted a wait-and-see attitude since the government introduced policies to cool down the nation's real estate market. [Agencies]
Property sales plummet as potential buyers adopt wait-and-see attitude
BEIJING - Just ten days ago, Li Yang, a company executive in Beijing, felt really excited about grabbing an apartment among over 2,000 potential buyers. But now, he is wondering if he should break the contract with the property developer.
The government's intensive launch of tightening property policies in mid-April has led millions of potential home buyers to adopt a wait-and-see attitude, leading to a plummet in property sales and a slight drop in the prices of some suburban projects. But a large-scale price drop in the country's key cities is unlikely to happen until the second half of this year, industry experts say.
Li Wenjie, general manager of property agency Centaline China (North China region), said the property price slide will occur in the third or fourth quarter this year after a fall in transactions in both the new and pre-owned home sectors. He expected the property price to drop 30 percent in key cities.
According to real estate research institute China Index Academy, among the 35 cities it monitors, 21 experienced a fall in transactions last week, with Hangzhou suffering the biggest drop of 72.6 percent. Property sales in Beijing, Shanghai and Shenzhen fell 45.5 percent, 32.9 percent and 63.9 percent respectively over the previous week.
"The tightening measures will lead to a correction in the market, but a price slump is not likely to happen as the fundamental demand remains there," said Randall Hall, chief executive officer of Savill China, a UK-based real estate service provider.
Hall's viewpoint was echoed by Michael Wu, a director in Fitch's Asia-Pacific corporate team.
"The lending curb on second or additional residential property purchases will reduce demand from investors and speculators who may find it more difficult to finance their purchases. But demand from end-users will remain strong, particularly in second and third-tier cities, underpinned by China's continued urbanization and income growth," Wu said.
Related readings:


 China's real estate time bomb ticking


 Real estate market cools down in Shanghai on government moves


 Real estate market 'overheating'


 China real estate bazaar drowns out govt warnings
"As property developers, especially those listed ones, remain awash with money from last year's sales boom, they are unlikely to cut prices in the short term," said Pan Shiyi, chairman of SOHO China. He estimated that around 70 percent of listed property developers have more than 10 billion yuan on hand, an amount that he said could allow these companies to operate for two to three years in a bearish market.
In a recent report, Fitch Ratings said the central government's recent real estate policies are expected to moderately cool market sentiment. However, the agency expects a limited impact on the existing rating levels of property developers, given their relatively strong balance sheets.
For international real estate service providers, these tightening measures are not likely to hurt their business.
"Though the sales business might be affected, our other lines of business such as consulting, leasing and property management will remain solid," said Hall. "Moreover, we will join hands with leading domestic property developers to expand our business. In fact, we still expect a revenue growth this year." The company recently set up a joint venture with Tianjin TEDA Development Co Ltd.