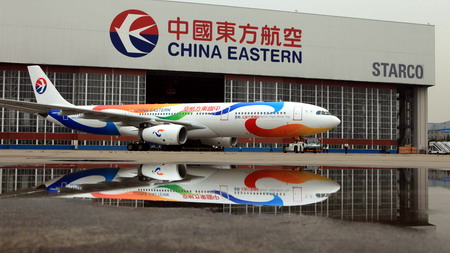 A China Eastern aircraft with 2010 World Expo signage at Shanghai Hongqiao Airport. The carrier said that profit for the first three months of 2010 amounted to 769.9 million yuan, 18 times more than the same period a year earlier.[CHINA DAILY]
SHANGHAI - China Eastern Airlines Co, one of the nation's three major carriers, said on Tuesday it has applied to the Shanghai Stock Exchange to lift the "special treatment" tag on its trading code after reporting a net profit of 30 million yuan ($4.39 million) in 2009.
China Eastern made the request because its debt to asset ratio has improved to 95 percent from 115 percent at the end of last year.
In its 2009 annual report, the Shanghai-based carrier said it turned a profit of 539.74 million yuan in 2009, in contrast to a loss of 13.93 billion yuan for 2008. The company said that profit from its core aviation business amounted to 30.01 million yuan, compared to a loss of 14.26 billion yuan in 2008.
But turnover for 2009 declined 4.81 percent from 2008 to 39.83 billion yuan.
The carrier said that profit for the first three months of 2010 amounted to 769.9 million yuan, 18 times more than the same period a year earlier.
"Since the carrier started to turn a profit in 2009, it will be just a matter of time before they get back to the normal trading procedure," said Li Lei, an industry analyst with Citic China Securities.
Usually, it would take no more than two months for the approval to remove the special treatment tag, said Yao Jun, an analyst with China Merchants Securities.
Special treatment shares are subject to a daily 5 percent trading limit.
In its annual report, China Eastern said that changes in the 2009 marketing strategy and route restructuring had helped improve its passenger load factor to 72.16 percent, up 1.36 percent from 2008. China Eastern's cargo load factor also improved by 0.09 percent to 50.45 percent.
Since new management led by Liu Shaoyong took over in February 2009, the company has mounted a cost-saving program, which, together with a 33.71 percent fall in fuel costs, helped cut operating expenses by 13.92 percent from 2008 to 36.16 billion yuan last year.
Related readings:


 Profits take off at China Eastern Airlines


 China Eastern backs SkyTeam partnership


 China Eastern to join SkyTeam

 China Eastern to open direct flight between Nanjing and Singapore

What's more, a shift in international oil prices has turned its fuel-hedging contracts to a small profit from a heavy financial drain in 2008.
The merger with Shanghai Airlines completed in February was too late to have any impact on the company's performance in 2009. But the company said that the merged carrier now has a 50 percent share of the local market as China Eastern had a 32 percent share and Shanghai Airlines owned 17 percent before the merger. The remaining portion was held mainly by Air China.
Liu, chairman of China Eastern, has said that the airline would welcome foreign strategic investors that could help it develop its international business. Talks of a sale of equity interests to Singapore Airlines broke off in August 2008.
Last Friday, China Eastern announced the signing of a letter of intent to join the SkyTeam alliance by the middle of 2011.
"The carrier will benefit a lot from greater access to China and the Asia-Pacific as a member of the aviation alliance, but that would take effect over the mid- to long-term," said Li.
Yao said he saw China Eastern's joining SkyTeam as a sign that it will have more cooperation with Guangzhou-based China Southern Airlines, which is also a member of the aviation alliance. "Their cooperation will make them stronger in their home market to compete against Beijing-based Air China," Yao said.