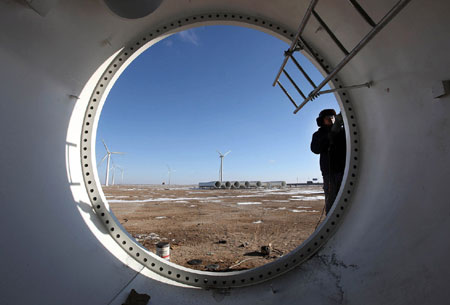 A man works on the assembly of a wind turbine in Yumen, Gansu province. [DOUG KANTER / BLOOMBERG] 
BEIJING - China needs an additional investment of $64 billion annually over the next two decades to implement an "energy-smart" growth strategy, the World Bank said.
Such investment should be aimed at making the power and transport sectors more efficient and developing renewable energy, the bank said in its latest report.
Besides China, East Asia's other five major energy-using countries - Indonesia, Malaysia, the Philippines, Thailand and Vietnam - need to invest a total of $16 billion to get onto the sustainable energy path.
However, mobilizing such huge amounts of financing will be a major challenge for the region, the bank said, urging developed countries to transfer substantial financial help and low-carbon technologies.
It is estimated that approximately $25 billion annually would be required for the region in concessional financing from developed countries to cover the region's incremental costs and the risks of energy efficiency and renewable energy, the bank said.
"The technical and policy means already exist for the necessary transformation in East Asian countries - what's needed is political will and unprecedented international cooperation to meet the financing needs," said Wang Xiaodong, a senior energy specialist for the World Bank.
The bank noted that developing a low-carbon economy is a key part of China's national development strategy, and China has made "remarkable" progress on this front.
Related readings:


 Green buses take first runs


 Going green a new trend on campus


 'Green' tops agenda at business forum


 France seeks China's green industry investment
"China is voluntarily committed to reducing its carbon intensity per unit of gross domestic product (GDP) by 40-45 percent by 2020 compared to the 2005 level," said Wang. "And the Chinese government's target of a 20 percent reduction in energy intensity from 2005 to 2010 would reduce annual carbon dioxide emissions by 1.5 billion tons by 2010, five times the 300-million-ton reduction of the European Union's Kyoto commitment."
However, the bank said China has primarily relied on effective administrative regulations to improve energy efficiency during the 11th Five-Year Plan (2006-10).
A more balanced approach that brings in market-based mechanisms and financial incentives to capture remaining energy efficiency potential would help the country achieve its objectives during the 12th Five-Year Plan (2011-15).