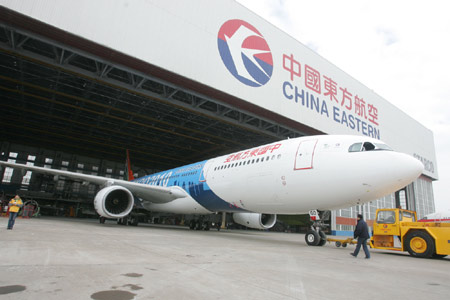 A China Eastern Airlines' plane, with a Shanghai World Expo 2010 logo on it, at the Shanghai Hongqiao Airport. [China Daily]
Carrier rebuffs proposals from Oneworld, Star Alliance
SHANGHAI - China Eastern Airlines Corp, the nation's second-biggest carrier, will join the SkyTeam airline grouping, rejecting proposals from Oneworld and Star Alliance, according to sources.
The carrier will announce the decision this week, said the executives, who declined to be identified before an official release. Liu Jiangbo, a China Eastern spokeswoman, said an announcement will be made on April 16. She declined to comment on which alliance the carrier plans to join.
Joining SkyTeam would enable China Eastern to gain access to 13,133 daily flights operated by group members including Air France-KLM, China Southern Airlines Co, Delta Air Lines Inc and Korean Air Lines Co.
The Shanghai-based carrier would also help its new partners expand in East Asia after SkyTeam failed to lure Japan Airlines away from Oneworld.
Related readings:


 China Eastern set to join SkyTeam alliance


 China Eastern to open direct flight between Nanjing and Singapore


 China Eastern Airlines in search for new investors


 China Eastern shares decline on selling spree by investors
"More cooperation like code-sharing will help ticket sales," said Kelvin Lau, an analyst at Daiwa Institute of Research in Hong Kong. "Indeed, Chinese airlines should make even more use of alliances."
Air China Ltd, the nation's largest international airline, is a member of Star, alongside Deutsche Lufthansa AG, Singapore Airlines Ltd and UAL Corp's United Airlines.
Japan Air in February rejected a Delta-led proposal to join SkyTeam after Oneworld members American Airlines and British Airways offered to increase cooperation.
Bloomberg News