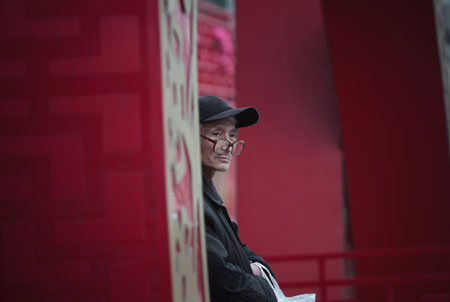 A retired worker kills time standing near Raffles City in Shanghai and watching passers-by. Experts say growing old at home is China's answer to its ageing problem, but professional home services need to improve substantially. Zhao Jing/China Foto Press 
BEIJING - Seventy-eight-year-old Zhang Haoyu (not his real name) is part of the statistics: About 85 percent of elderly Chinese said they prefer home-based care to living in a nursing home, according to a recent survey by China National Committee on Ageing (CNCA).
The former researcher with the People's Liberation Army has suffered from Parkinson's disease for 20 years and is now showing early symptoms of dementia. Last year, things took a turn for the worse and he's now bed-ridden.
Due to the special care that he requires and a preference not to send him to a nursing home, his family finally decided to enroll Zhang for professional home-care, run by Beijing-based Pinetree Senior Care Services Co Ltd.
Pinetree is among countless businesses in China that are tapping into the golden opportunities related to the ageing population. Existing businesses are merely scratching the surface of the vast potential. Healthcare, pharmaceutical, financial services, manufacturing and the retail services industries stand to benefit from the growing number of old people.
Consider this: More than 12 out of every 100 people in China are over 60, CNCA said. By 2050, there will be more senior citizens in China than the entire population in the United States. The United Nations threshold for an ageing society is 10 percent; China reached this in 1999.
Adding to the business attraction of the industry is the current shortage of nursing homes and beds including professional nurses and caregivers, and lack of a social safety net. Currently, demand outstrips supply for beds in nursing homes by almost 6 million. Two thirds of China's 1.3 billion population have no social safety net.
Ninie Wang, Pinetree's chief executive officer, is very much aware of the potential when she started offering care services in 2009. Pinetree, she claims, offers a unique proposition to senior citizens in Beijing: Qualified medical personnel at patients' doorsteps for a reasonable price.
In a nutshell, Pinetree's services try to provide long-term care to help senior citizens to stay independent without being uprooted from their communities or familiar surroundings and put into nursing homes.
Since care is not always needed 24 hours a day, seven days a week, Wang devised a menu that offers a selection of services according to frequency and duration.
"Ageing at nursing homes is depressing. While we may not have all the correct answers, we believe that ageing at home is China's answer to its ageing problem," said the 32-year-old, who obtained an MBA with an entrepreneurial specialty from the prestigious INSEAD business school.
Services menu
Pinetree's care menu was specifically designed to allow customers to choose from 30, 45 or 100 minutes of nursing care with frequencies ranging from a minimum of once a week to a maximum of six times per week. Prices range from 100 to 1,320 yuan per month. Most customers spend between 100 and 660 yuan per month.
Pinetree has 500 customers and the numbers are growing, Wang claimed. More than 50 percent of her existing clientele have long-term contracts and are paying from their own pockets. The patients range between 60 and 104 years old.
Nurses, selected after meeting stringent guidelines, are dispatched from Pinetree's two nondescript service units in Beijing - Hepingjie and Dongzhimen, which are strategically located in the heart of the city - allowing quick access to patients' homes.
To keep costs low and ensure efficiency, nurses use public transport, walk or cycle, work on shifts, and office rentals are kept to the lowest. Average travel time to patients' homes is capped at 15 minutes per patient per visit. A nurse handles 10 to 20 patients a month and works 6 days a week.
"Scheduling of staff and being efficient are important to us to be profitable. Once you break down the time, nurses can serve more customers," she said. Service units would only be set up once a service area registers more than 30 clients. In the first six months of operation, the service units should be able to break even.
While her competitors such as nannies, State- and privately-owned nursing homes, and community hospitals are struggling with their respective problems such as financial, quality of care, psychological difficulties and safety issues, she's not resting on her laurels.
As part of her grand scheme to grow more quickly, Pinetree is expected to break even in 2011. By 2015, Pinetree would establish 1,000 service units nationwide, hire 40,000 more professional nurses and replace cumbersome paperwork with handheld devices to service an estimated 5 million customers.
In order to achieve the ambitious plan, she's currently in discussions with interested investors - foreign and local - to become Pinetree shareholders. The plan also falls inline with expectations that competition would be fierce in the coming years due to entry by more players.
Related readings:


 Fear of ageing drives men's cosmetic sales


 Elderly subsidy program expanded


 Elderly care is need of the hour in Guangdong

 China's elderly population reaches 167M
"We're open to partnering with those who have experience in process management skills and care, financial resources and international exposure to further capitalize on our services," Wang added.
While it will take some time for her business model to take off, she's banking on the prospect of huge demand for care services in the near future. The recent financial crisis has seen certain countries reversing their earlier policy of encourageing the elderly to age at nursing homes to help reduce mounting state financial burdens. Wang sees this as proof that Pinetree has an edge in China.
Besides, she believes the insurance industry will in the future launch products to cater for senior citizens that would indirectly benefit Pinetree. Currently, there are no insurance products in China that cover medical and care expenses for senior citizens. The Chinese Insurance Regulatory Commission (CIRC) and Ministry of Civil Affairs are currently developing a working mechanism for relevant insurance products and schemes for senior citizens but there is no indication when it will materialize.
Meanwhile, Zhang Haoyu is a happy Pinetree customer. He looks forward to his thrice-a-week treatment in the comfort of his home. The painful lesions on his back and legs are gone; his failing memory is resuscitated by constant communication with the nurse, during which the mere mention of faraway lands and cultures always gets him elated.