Guangdong population to age most rapidly from 2015 to 2035
GUANGZHOU: The population in Guangdong province is expected to age most rapidly between 2015 and 2035, and the next five years will prove vital in stepping up facilities for the elderly, local officials said.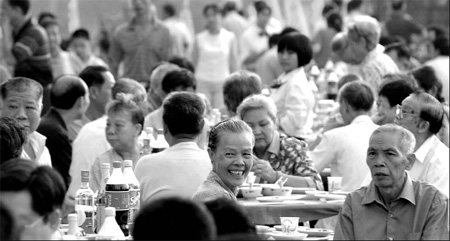 In this file photo, several senior citizens gather together in Guangzhou to celebrate the Double Ninth Festival, a Chinese festival for the elderly that falls on Sept 9 in the lunar calendar. [China Daily] 
The elderly, aged 65 and above, in Guangdong account for 8.17 percent of its total population and are increasing by 3.5 percent annually, local newspaper Nanfang Daily has reported.
The elderly will increase by 480,000 every year, reaching 17 million by 2035 and 21 million by 2050, the report said, citing official figures.
Related readings:


 China's elderly population reaches 167M


 Elderly and abandoned, 85 Haitians await death


 Taiwan a popular destination to elderly mainland tourists


 tMore elderly afflicted with HIV
The society in Guangdong is growing old before getting wealthy, according to a report jointly released by the development and research center of the provincial government and Guangdong Research Center for Public Affairs of Elderly People last year.
As the province remains backward in related theories and policies, the aging problem is set to become a major social issue if urgency is not placed on related plans, the report said.
With the implementation of the one-child policy, more and more families have one child, two parents and four grandparents.
This, together with hefty housing prices and a tightening job market, imposes pressure on the parents to care for the family's elderly while raising their own child, said Zhu Lieyu, a delegate to the provincial people's congress.
Joining the aging population are also migrant workers who have rushed to Guangdong in the past three decades to bank on the early reform and policy of opening up. They too are approaching retirement.
The facilities for the elderly, including nursing homes and community centers, are inadequate due to a lack of funds and policies.
At a government-run nursing home in Guangzhou, the 1,100 beds are almost fully occupied and more than 100 people are queuing up to get in, with inquiries coming in every day, said president Hong Peixian.
Queues also exist at other government-owned nursing homes in some districts of the provincial capital.
Single and standard rooms at non-governmental nursing homes, though substandard, are also in short supply. Deluxe rooms are available but at high costs.
Only 90,000 beds are available in Guangdong's nursing homes, accounting for only 1 percent of the elderly population.
More than 5.8 percent of the urban elderly said they are willing to live in nursing homes, according to a survey conducted by the provincial civil affairs department in October last year.
As for community services, only 37 pilot centers are offering home services for 50,000 elderly people living at home in Guangdong.
The community recreational centers for the elderly are mismanaged, with obsolete equipment. Some have been shut down or turned into paid mahjong parlors.
Behind these problems lies a shortage of capital, said Liu Hong, director of the provincial civil affairs department.
The expenditure on elderly care is not listed as a dedicated entry in the government's budget. The funding comes mainly from lotteries and charity funds, Liu said.
As for funds for non-governmental nursing homes, only a few cities in the wealthy Pearl River Delta (PRD) have implemented such measures.
Although the provincial regulation on non-governmental charity organizations allows preferential policies in buying land, building houses, and water and power supplies, the implementation has failed due to hefty land prices.
To address the problems, the provincial civil affairs department has been working on a plan for elderly care as part of the province's 12th Five-Year Plan, with an aim to increase the number of beds at nursing homes to account for 3 percent of the elderly population in the PRD.
All street or township level communities in the PRD should have service centers and those at the residential committee and village level should have service stations, according to the plan.
All cities in the PRD will be required to implement support for non-governmental nursing homes this year.
To step up services to the elderly living at home, Guangzhou and Foshan will serve as pilot cities this year in the first phase.
Community recreational centers will be revamped.
Xiao Jingwen contributed to the story